Historic Costume Portfolio
---
This page contains a small sampling of some of the many historic based costumes that we have created in the past. These items are not currently available for purchase, but may be available as a custom order. Please contact us if you are interested in purchasing a costume simiar to those shown on this page.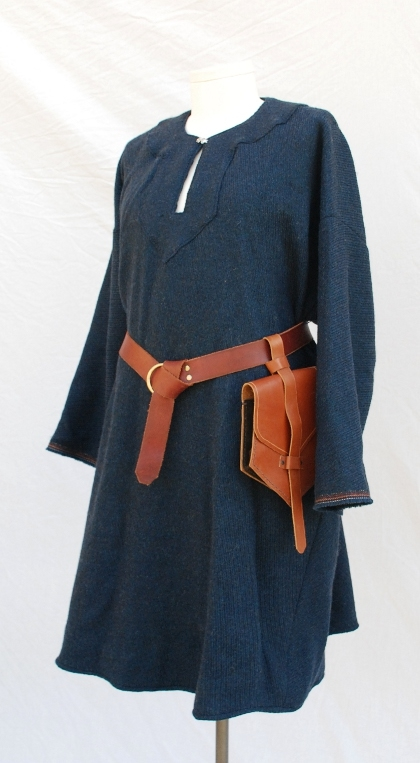 Textured Indigo Blue Wool Birka Tunic
This Birka style wool Viking tunic was made from heathered indigo textured twill woven coat weight 100% wool. There was multicolored wool from the fabric selvedges at the wrists. The clasp at the neck was made from sterling silver. All seams were machine stitched and raw interior edges serged. This fabric was a lucky find, and therefore this was a one of a kind item, but we can create another tunic in a similar pattern. Generally speaking, wool Viking style tunics would cost $165, in linen $155 + shipping.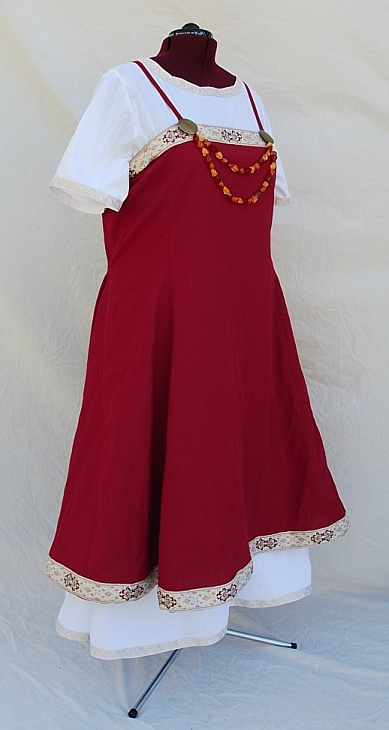 Viking Inspired Lady's Outfit
This custom ordered outfit was inspired by Viking women's clothing. It features a white cotton short sleeved gown with gold and white trim and a red linen apron dress with trim, faux amber bead and brass tone metal accents. A costume like this would cost around $240.
Black Wool Medieval Ganache
This coat weight black wool melton hooded medieval surcoat is known as a ganache or garnache. Pulled on over the head, it is fully open at the sides, which can be overlapped and belted into place. This generally costs $155 + shipping.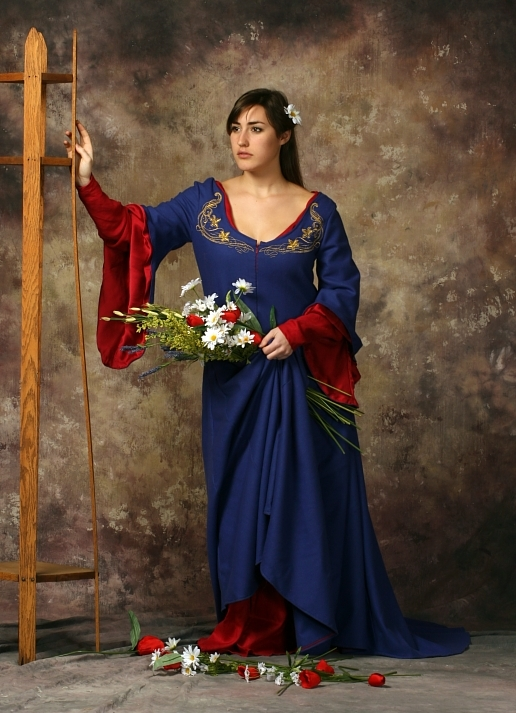 Waterhouse Inspired Embroidered Blue Gown
Photo by Nina Rizzo. Copyright 2007.
Gold embroidered blue wool flannel gown inspired by a series of paintings created by John William Waterhouse. It seems that not only did the painterly Pre-Raphaelite Brotherhood share models, the models shared one blue dress between them. This appears particularly in Waterhouse's "The Tempest", Waterhouse's "Ophelia" from 1910, Waterhouse's "Fair Rosamund", and "Meeting on the Turret Stairs" by Fredrick William Burton. Waterhouse's "Destiny" may be the undergown by itself.
Our version of this gown had a gold embroidered Art Nouveau design on the bodice that we digitized from scratch. The sleeves were fully lined in hand dyed cranberry silk satin. The full skirts extended into a train at the back. Depending on current materials cost, this style woulc cost $495 in wool with gold embroidery and silk lined sleeves (linen undergown not included).
Shown here with the red linen undergown (shown below) tucked in at the bodice, the undergown sleeves extend to the wrist. Red linen undergown costs about $285 + shipping.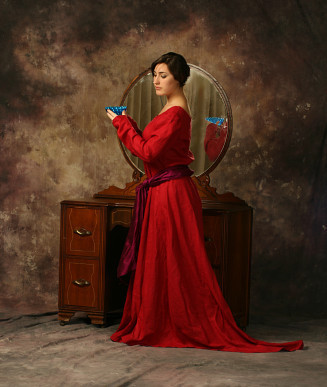 Waterhouse "Destiny" Inspired Red Linen Gown
Photo by Nina Rizzo. Copyright 2007.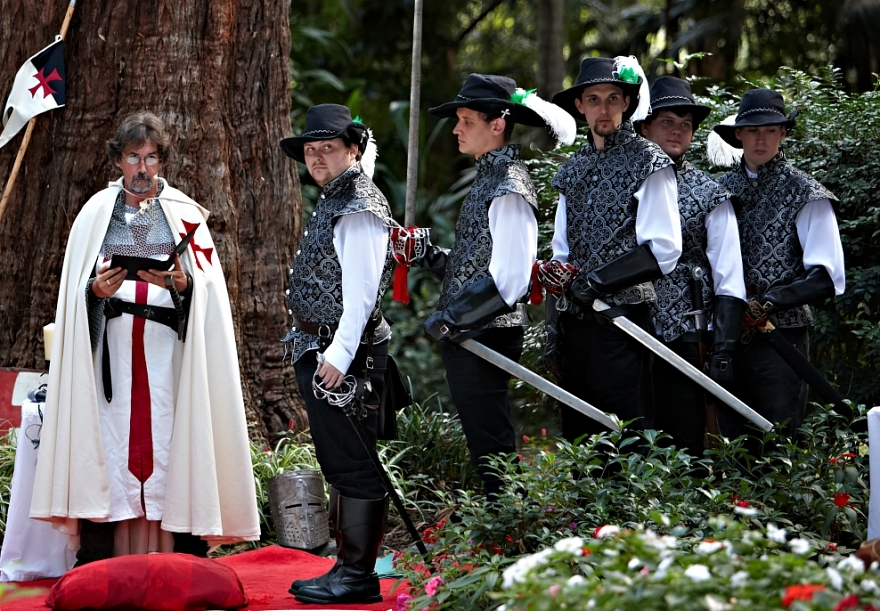 Custom Silver and Black Brocade Doublets
Harley, Ben, Steven, Jessee and Paul wearing our Black and Silver Brocade doublets at Harley's wedding in 2010 in Australia. The celebrant was Colin Phillips, and the photo is by Chasing Summer Photography and is used here with permission. Thanks for the wonderful photo Susan! Custom brocade doublets tend to cost $95-105 + shipping depending on current materials cost.
Blue and White Revolutionary War Bodice and Skirt
Blue and White Revolutionary War Bodice and Skirt
This ensemble was patterned after a historic caraco jacket from c. 1775-85. This jacket was made from a linen rayon blend material with a blue floral pattern. Shown here with a royal blue cotton velvet petticoat and white 100% cotton kerchief. These exact fabrics are no longer available, but a different costume in this style could be made for around $385 for linen jacket and petticoat skirt.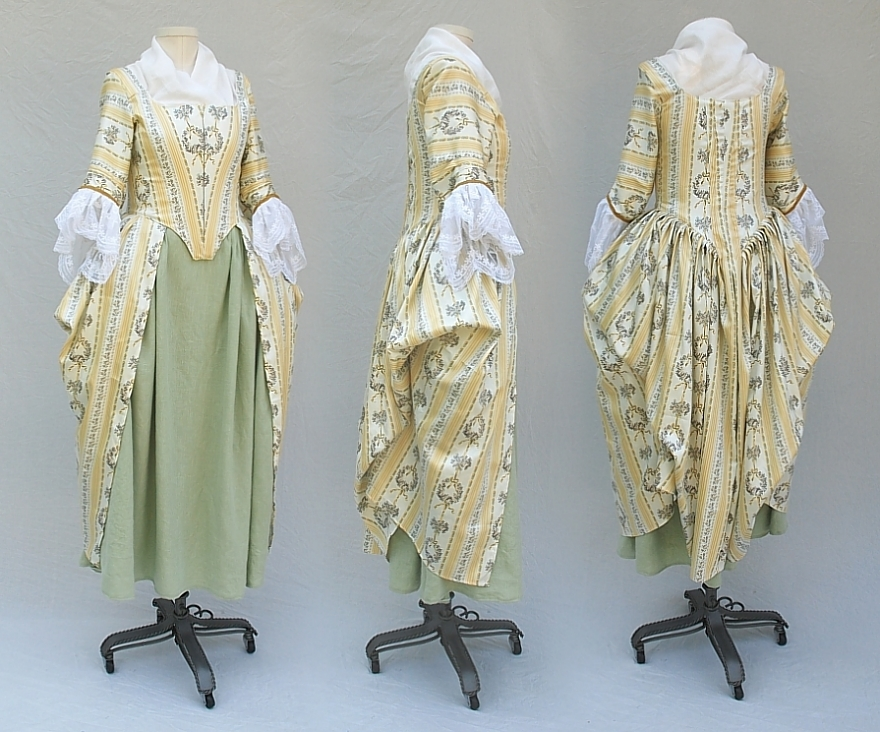 Revolutionary War Era English or Polonaise Gown Replica
This custom made ensemble features an English or Polonaise gown based on a historic 1770 - 1780 gown reference. Yellow and white striped cotton print gown with celery green linen petticoat and pocket hoops. This style ensemble would cost $525 and up.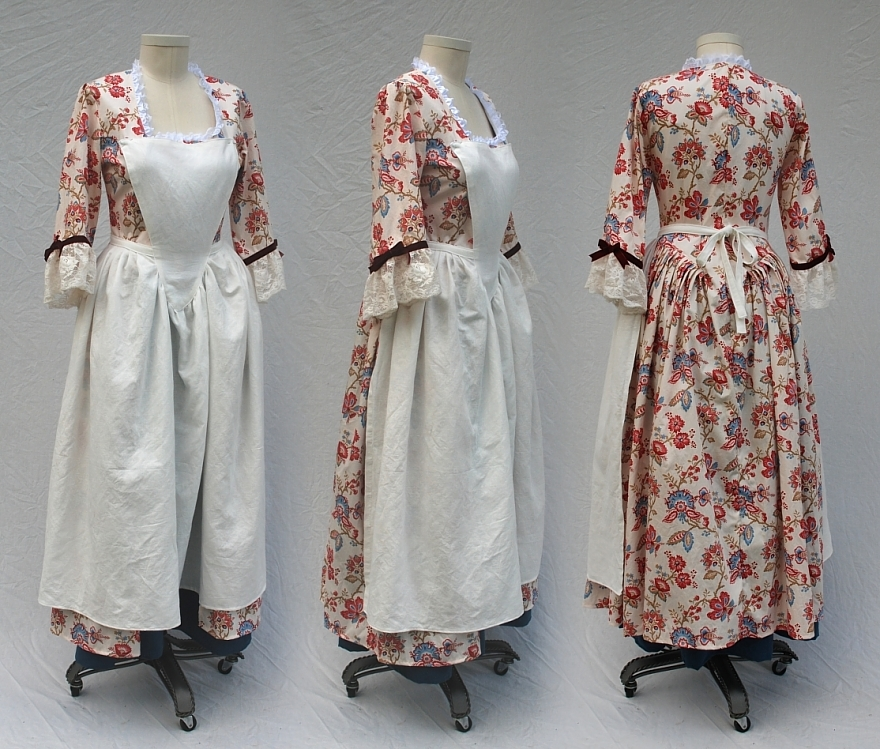 Floral Print Revolutionary War Gown with Linen Pinner Apron
This custom ordered Revolutionary War Era adult woman's costume consisted of a blue petticoat, cotton gown with lightly boned bodice, and linen pinner apron (the bib is pinned to the front of the bodice as was done in the time period). This style would cost $525 and up.
Early 1700's Coat
Photo by Nina Rizzo. Copyright 2007.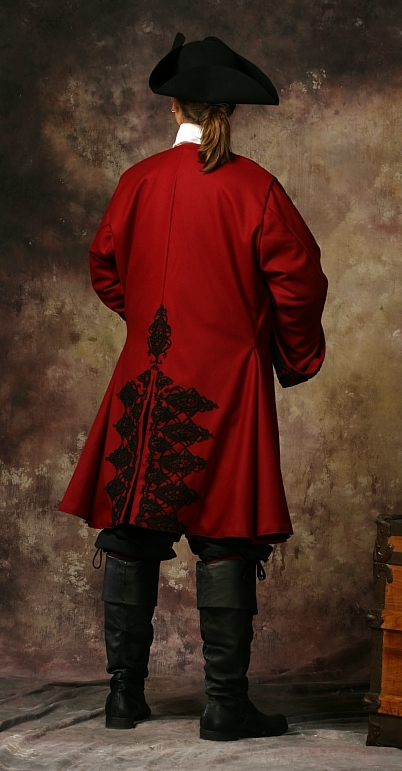 Early 1700's Coat
Photo by Nina Rizzo. Copyright 2007.
This early 1700's style coat was patterned after a diagram in the Cut of Men's Clothes based on a garment in the Victoria and Albert Museum. The coat shown above was made from cardinal red medium weight wool flannel stiffened at the front and cuffs with horsehair interfacing. The inside of the coat was lined with heavyweight softened black linen and has black wool flannel facings. There was just under five yards of black Venise lace appliqued to the front, the back vent, and the cuffs. The points of the lace along the front opening had 24 decorative black glass buttons with rhinestone center and gold highlights. This style would cost about $550 and up.
Blue and Cream Wool Revolutionary War Jacket
Custom created Revolutionary War style men's regimental coat with antiqued pewter tone metal buttons. This coat was made from royal blue 100% wool flannel with cream 100% wool facings and 100% cotton osnaburg lining. This style generally costs $455 and up.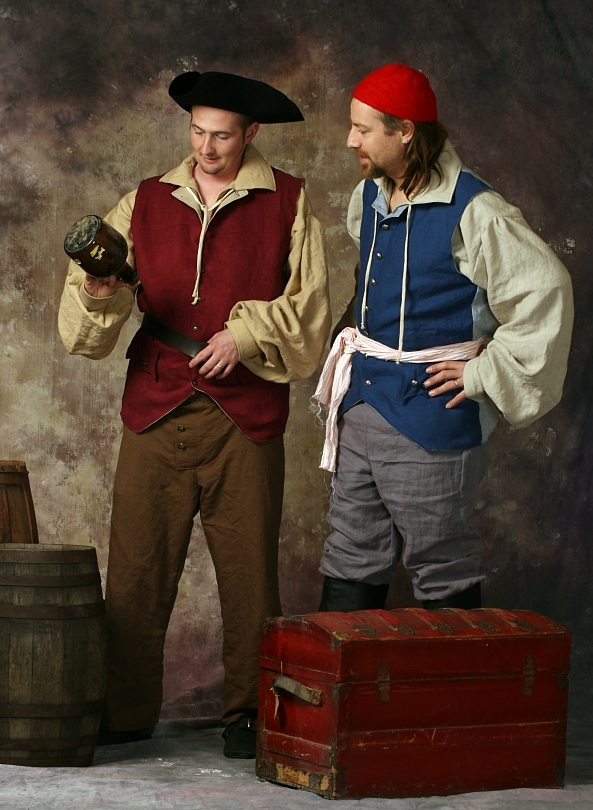 Revolutionary War or Pirate Style Outfits
Photo by Nina Rizzo. Copyright 2007.
Revolutionary war style linen shirts, waistcoats, button fly front long trousers and full fall/drop front knee breeches. The red wool cap was hand crocheted then felted to fit by us. Generally speaking, linen rev war shirts cost $95 ($105 with ruffle at neck), waistcoat $85, breeches $125. Prices do not include shipping.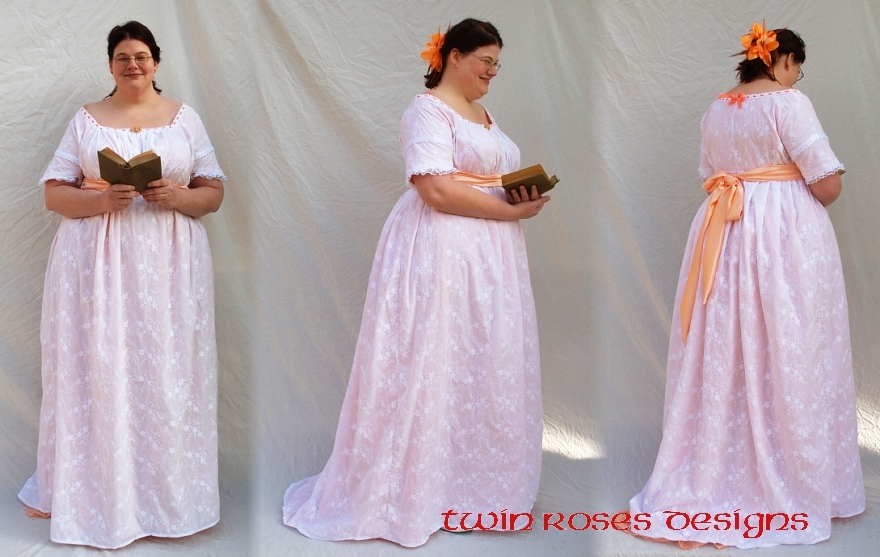 Dolley Madison Inspired Gown
Custom ordered Dolley Madison inspired gown made from pale orange lightweight cotton overlaid with white embroidered cotton batiste. White and orange ribbon and lace accents and a pale orange satin sash complete the look. Thank you Susan for modeling. A costume in this style would likely cost around $550.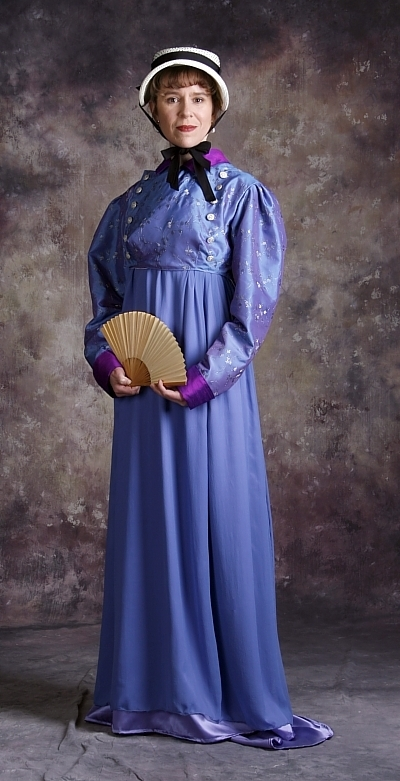 Custom Jane Austen style gown and Spencer Jacket
Photo by Nina Rizzo. Copyright 2007.
This custom Regency style ensemble was based on historic clothing pieces from the Jane Austen era, specifically 1809.
The silk gown features an empire waisted periwinkle 100% silk crepe bodice with matching ombre dyed periwinkle and lavender silk ribbons. The skirt was made from lavender 100% silk satin with a translucent periwinkle 100% silk organza overlay. The bodice is not visible in these photos.
The Spencer jacket featured a shot fuschia and periwinkle taffeta embroidered overall with silver leaves and vines, accented with fuschia 100% silk dupioni collar, cuffs, and inserts at the back of the jacket. The silver filigree buttons at the front and decorating the back of the jacket have a rose and leaf design. This jacket was fully lined with a pale pink linen/cotton blend fabric.
A custom ordered outfit made to measure in this style from comparable materials would cost about $850.
Custom made Civil War inspired printed cotton day skirt and bodice set with white ribbon trim, neckline piping and dainty pink buttons for a local customer.
Button Front New Style Dickensian Caroling Cloak
This custom ordered black wool melton Dickensian/Inverness cloak featured an overlapping button front. This cloak style is available as a custom order in your choice of unlined wool meltons as shown on our Custom Orders page.
Please see our Custom Orders page for the list of questions at the top of the page that we will need to have answered to provide an accurate price estimate. This unlined wool melton Dickensian style variation generally costs $325.
Other Dickensian/Inverness style cloaks are currently available on our Cloaks for Sale page.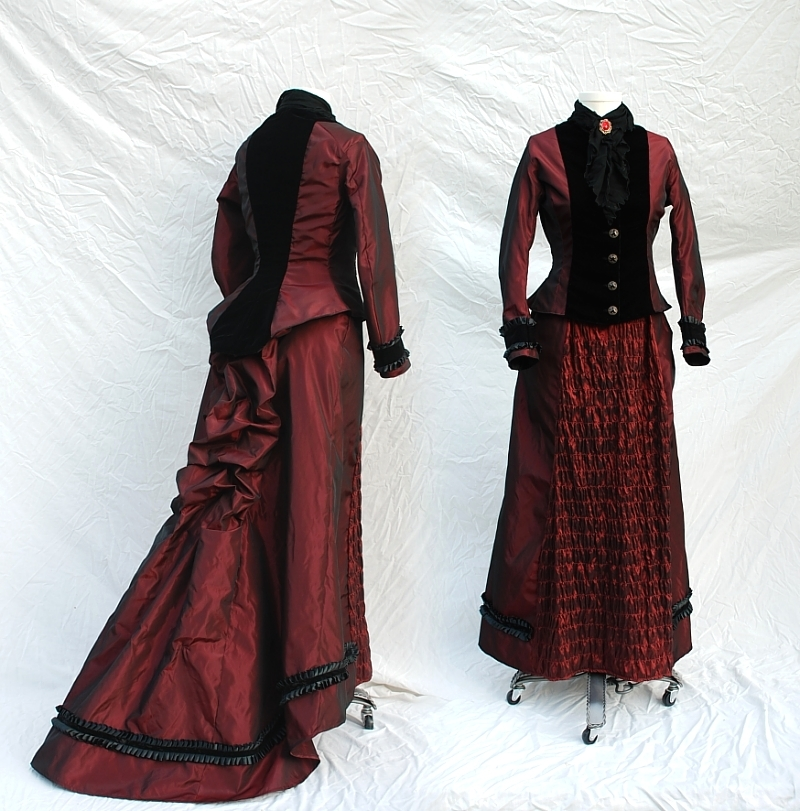 Mina Harker Inspired Victorian Outfit
This neo Victorian style outfit was based on a historic reference from 1874 -1877 and was inspired by the character Mina Harker from the Victorian classic "Dracula". The majority of this outfit was made from a shot garnet colored synthetic taffeta that 'whispers' and shimmers from ruby to nearly black.
The center front and center back bodice panels were made from crush resistant black velvet. The bodice buttoned up the front with eight antiqued gold tone buttons with an "Art Nouveau" style frame surrounding the shiny black plastic center - this button is viewable very close up on our Buttons for Sale page. The bodice was fully lined with matte black synthetic satin, but was not boned.
The unlined matching taffeta skirt had a tie at the waist for a bit of flexibility in fit at the waistline, and an arrangement of tapes that gather the skirt at the back and pull it in at the sides. There were hook and eyes on the tapes and skirt that allowed the train (shown above) to be pulled up for walking.
The final touch to this modern Victorian style ensemble was a black organza ruffled vintage scarf and a brooch with a faux red gemstone.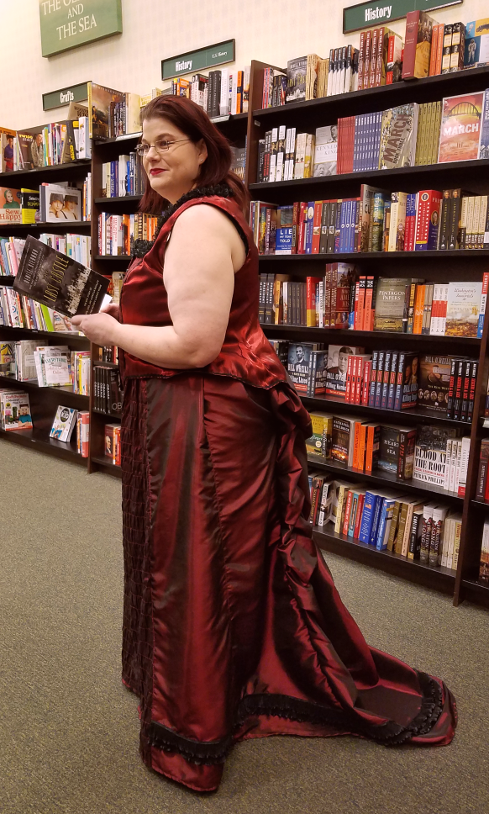 Victorian Inspired Red Taffeta Ensemble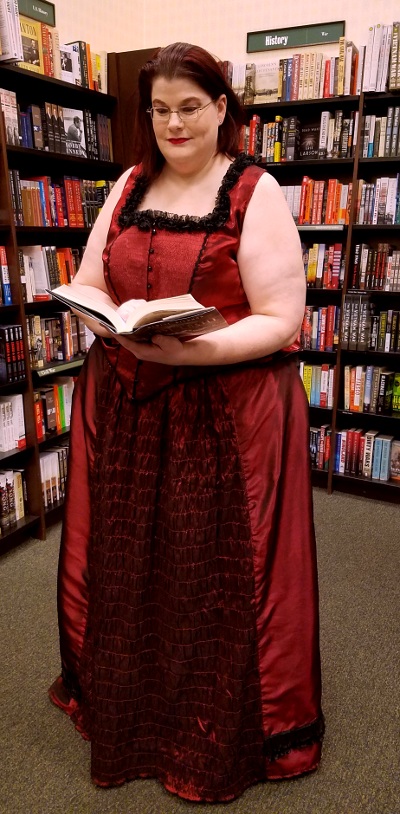 Victorian Inspired Red Taffeta Ensemble
At the intersection of Crafts and History, a Victorian inspired taffeta ensemble trimmed with black braid and lace.
Many thanks to Susan for modelling, and to our local Barnes and Noble for hosting this fun photoshoot.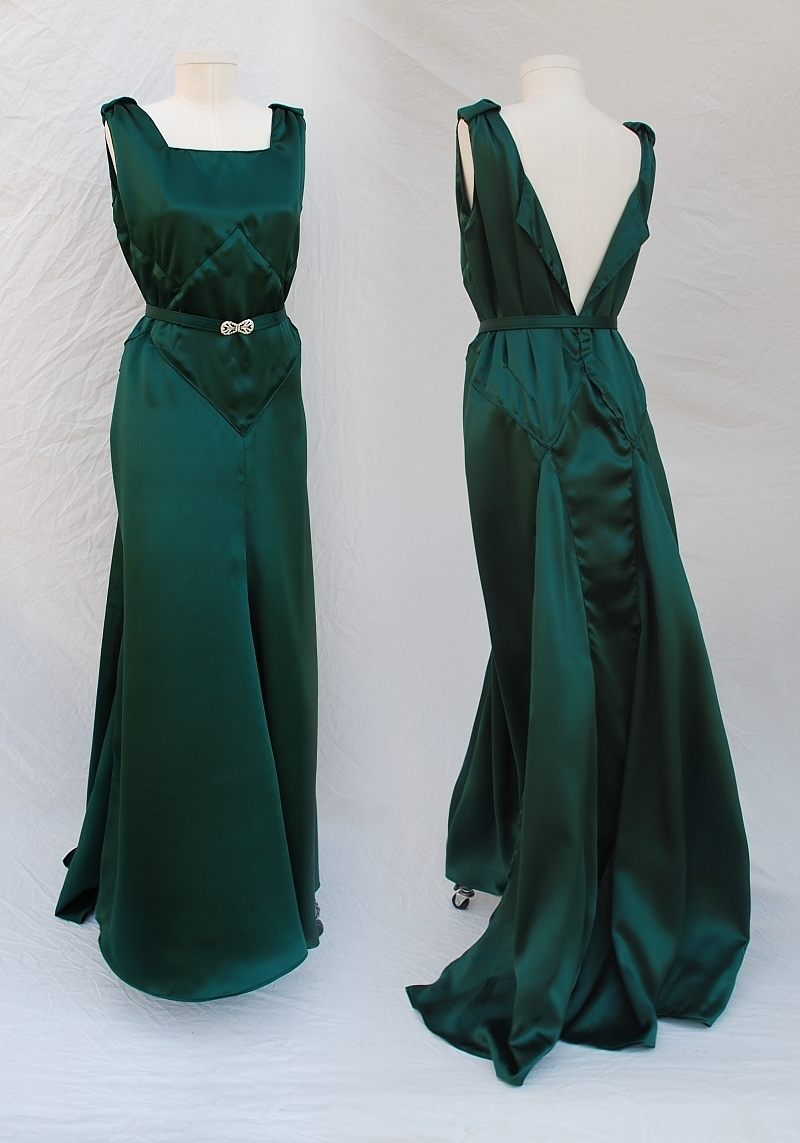 1930s Style Green Silk Satin Dress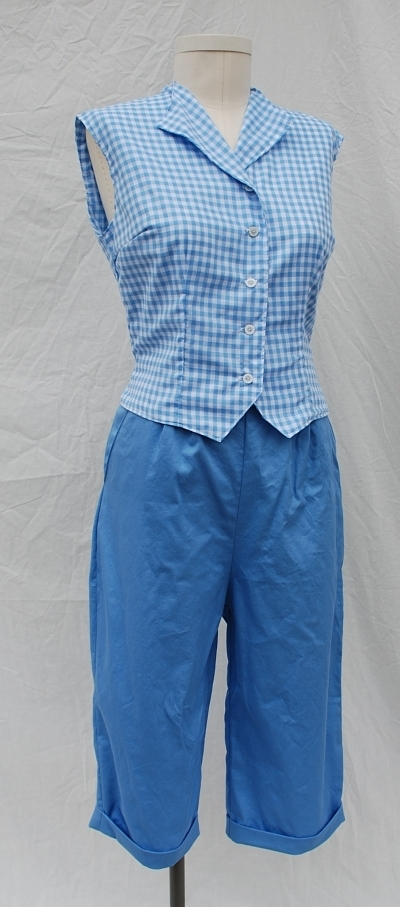 1950s Style Gingham Weskit and Blue Cotton Pedal Pushers
This weskit and pedal pushers ensemble was made from vintage patterns for the 1950's horror film parody Night of the Balloon.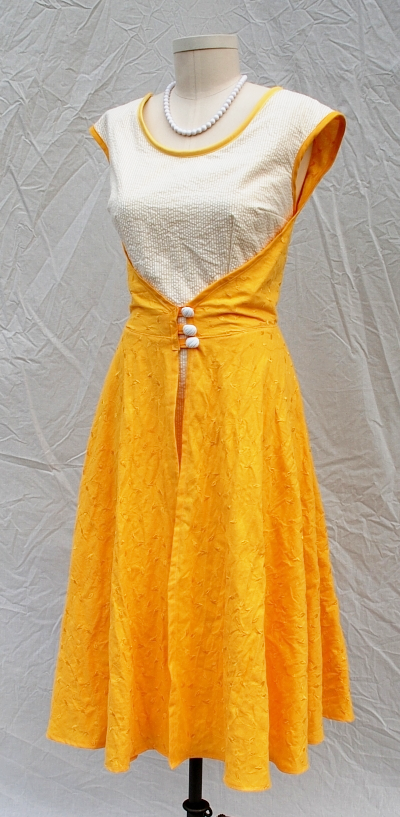 Lemon Drop Yellow Wrap Dress
This dress was made from a vintage pattern for the 1950's horror film parody Night of the Balloon.