Jedi/Sith Customer Gallery
---
Welcome to our customer gallery! On this page are just some of the many customers who have been kind enough to send up pictures of them ejoying their custom created costumes based on that galaxy far, far away. Do you have a picture of your outfit that you would like to share? Contact us !
Ruth Slagle in her custom dark Jedi inspired ensemble at Star Wars Celebration Orlando 2017.
Photo by Lisa Slagle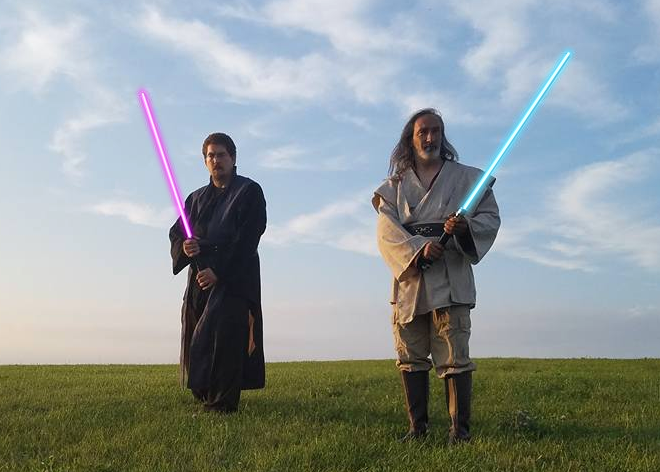 Lightsabers on the plains of Naboo.
Thanks to Mike Burger and Joel Christy. Photo by Alison Barth.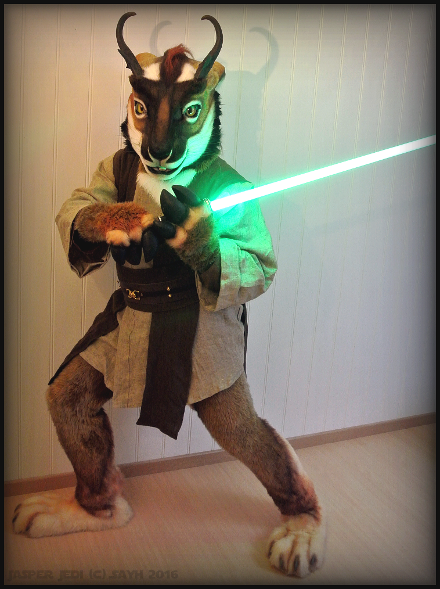 Jasper Jedi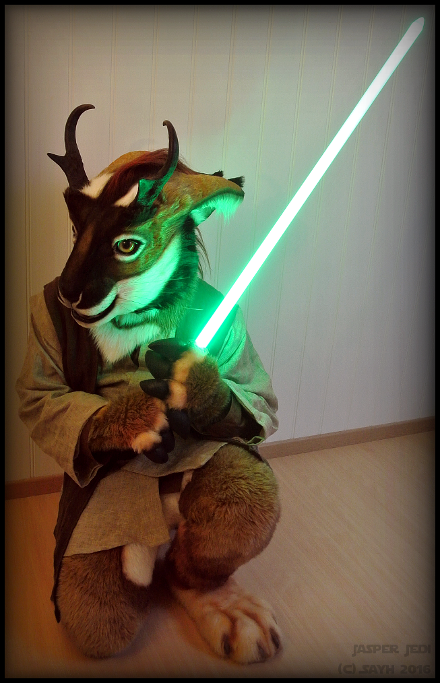 Jasper Jedi
A jackelope Jedi! This costume includes our tunic set, tabards, obi and belt over the insanely detailed fur costume by Stuffed Panda Studios.
Many thanks to Steinar & Xenia Eliassen for these photos.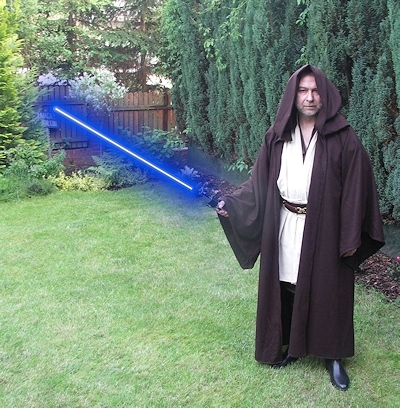 Jedi Piotr in his wool robe, oatmeal osnaburg tunic set and brown cotton inner tunic.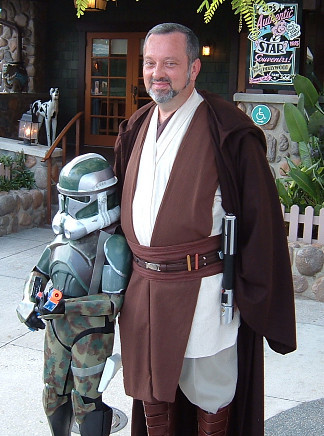 David Quimby modeling our brown wool robe, and cotton tabards and obi as photographed by Pat Quimby.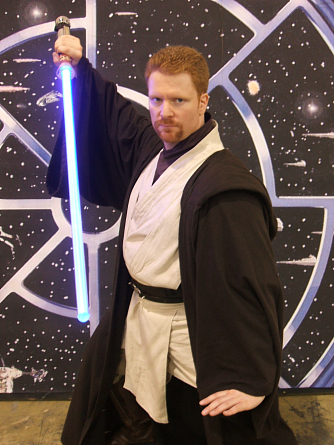 Jedi Logan Kell of FxSabers.com in his custom Jedi style costume
Anthony Goquingco Custom Jedi style outfit.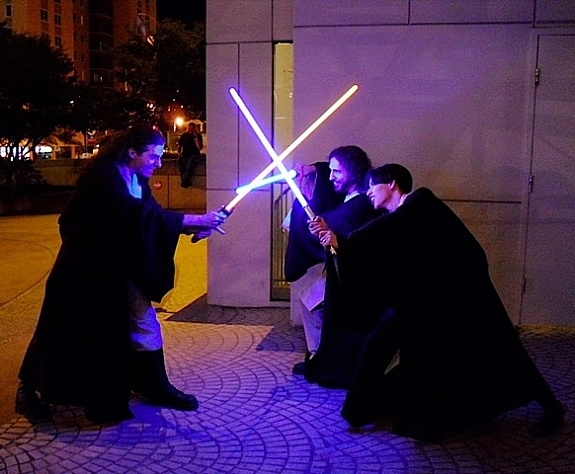 Jedis River, Neil and Zeph have a friendly saber battle at DragonCon. Thanks for the great photos!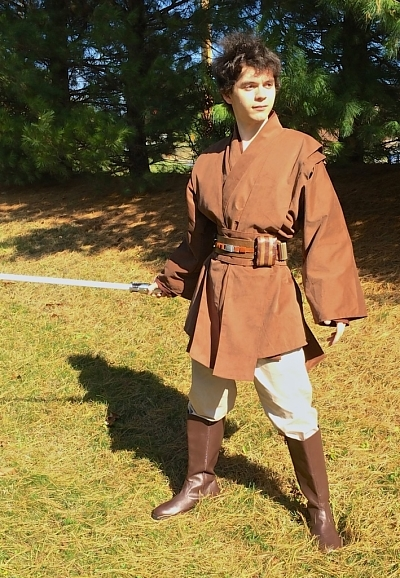 Samuel Gau wearing his custom Jedi style outfit consisting of a chocolate brown cotton inner tunic, brushed nutmeg outer tunic with shoulder tucks, and nutmeg twill obi and tabards.
Thank you Samuel for sharing the great pic!
Model: Samuel Gau. Photographer: John Watts.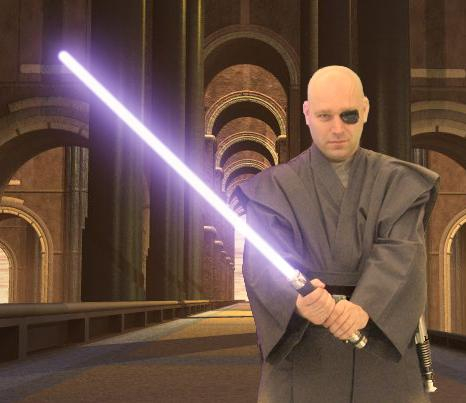 Eliot in his custom created grey cotton Jedi style ensemble.
Hannibal and Nick in their custom Jedi style outfits. Thanks for the great photos!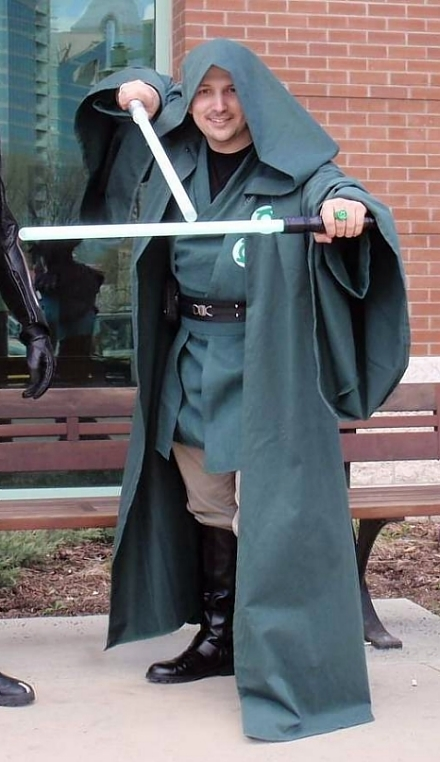 When universes collide! Allan dressed as a Green Lantern Jedi while attending the 2012 Calgary Comic and Entertainment Expo. We created a custom hunter green linen tunic set (tunic, tabards, obi) and he is also wearing one of our spruce green cotton twill Jedi style robes.
Thanks for the great photo Allan!
Power Ranger Jedi Joe
Another cross-over custom Jedi - this time with a Power Ranger twist. Joe requested that we create a green shirt weight cotton tunic and white dickie (false shirt-front) with shimmering yellow tabards and white obi for him to wear to conventions. The dickie allows for the look of a full under-tunic, but is just a front piece - this allows the wearer to remain cooler with fewer layers.
Thanks for the great photo Joe!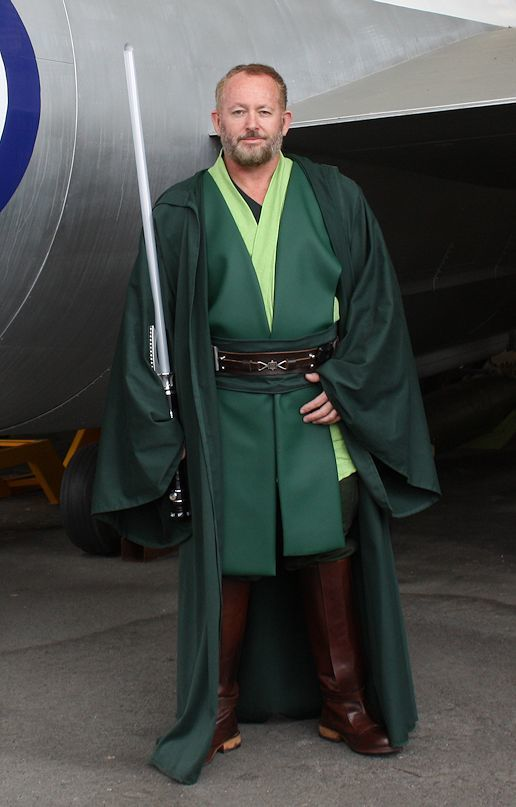 Jason as Corellian Jedi
The elisive Corellian Jedi! Jason provided us with this great photo of the custom tunic set that we created for him, along with a spruce green robe that he had purchased from us previously.
Thank you for providing the great photo, Jason!
Photo by Nuan Sciffer, used here with permission
Thanks for the great photo Jason!
Yavin Luke inspired outfit
Custom ordered Yavin Luke inspired costume with Han Solo style brown cotton twill trousers with embroidered old gold bloodstripes, pin tuck at the center front and riding seam at center back and a black cotton broadcloth shirt.
This outfit is no longer available as a custom order.
Photo courtesy the customer.
Please note: We do not make the jacket shown in this photo.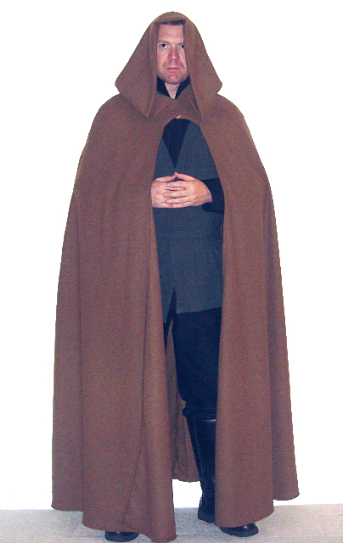 Custom Created Dark Luke Inspired Outfit with Cloak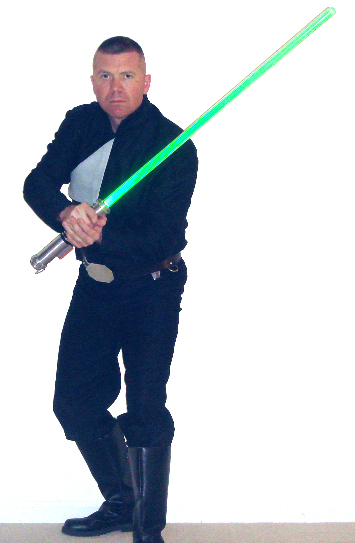 Custom Created Dark Luke Inspired Outfit
This versatile custom ordered outfit was based on Luke's outfit from ROTJ. The black cotton twill pants and shirt with contrast lined bib front can be worn alone (the customer had his own belt to wear with it), or with the textured hand dyed linen/rayon blend vest, tabards and obi shown above.
The cloak was styled after one of two cloaks that were used in ROTJ when Luke confronts Jabba in his palace. Watch the scene closely, and you will see the front opening change from a hook and eye to a breakaway velcro closure for the fall down the shaft!
William Norman Boggs in his custom created Old Obi Wan style outfit.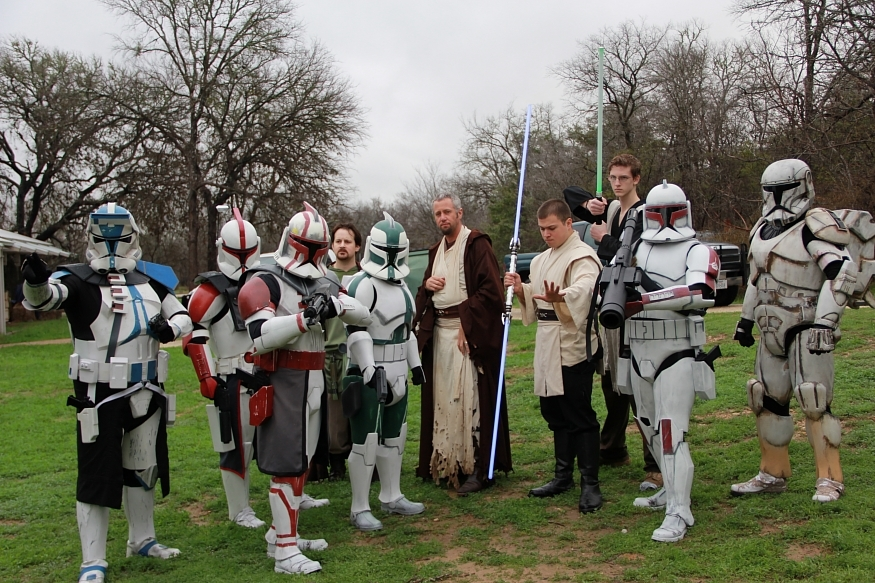 Book People Star Wars Camp Spring 2012
Custom ordered Ep IV Obi Wan inspired costume in lightweight brown and tan crinkle cotton with brown wool flannel robe. This costume was hand dyed, distressed and painted to appear aged and 'dirty'.
This costume was created for the Book People Jedi Training Camp in Austin, TX. Thank you, Topher, for the great photo!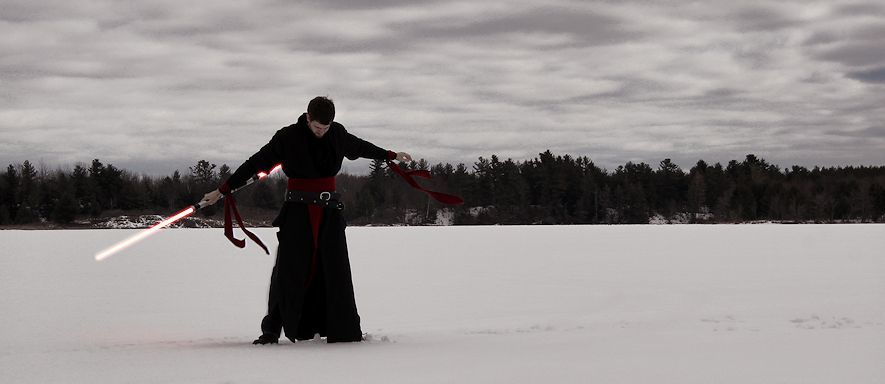 Rob Warren in his custom Sith Outfit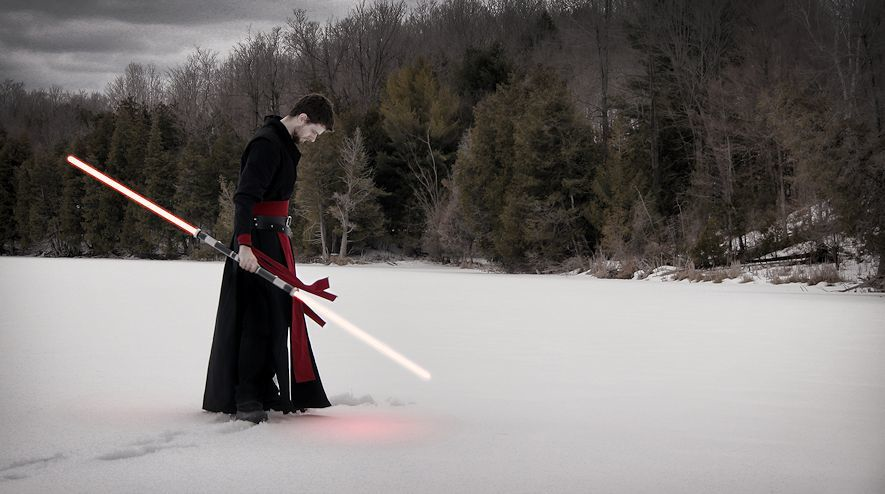 Rob Warren in his custom Sith Outfit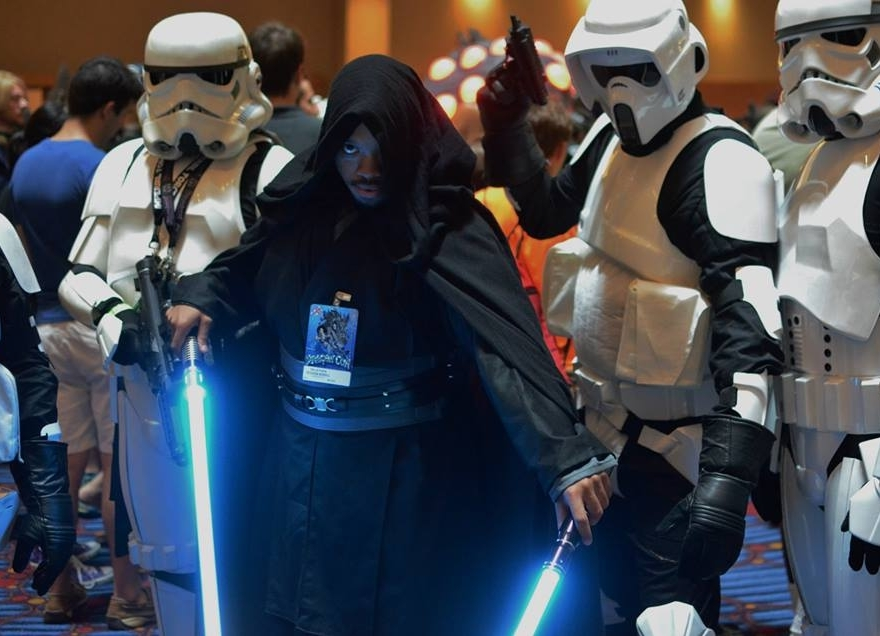 Peterson Worrell in his customized Sith style outfit at DragonCon 2013
Thank you for sharing the great photo, Peterson!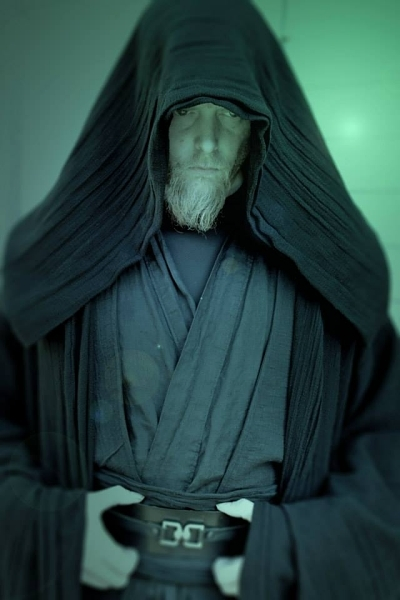 Darth Nonymous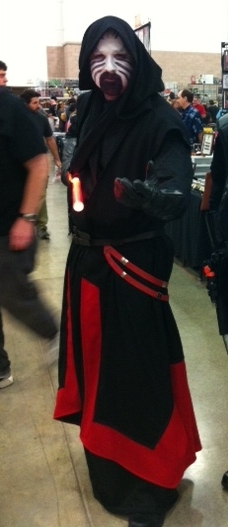 Demon Hunter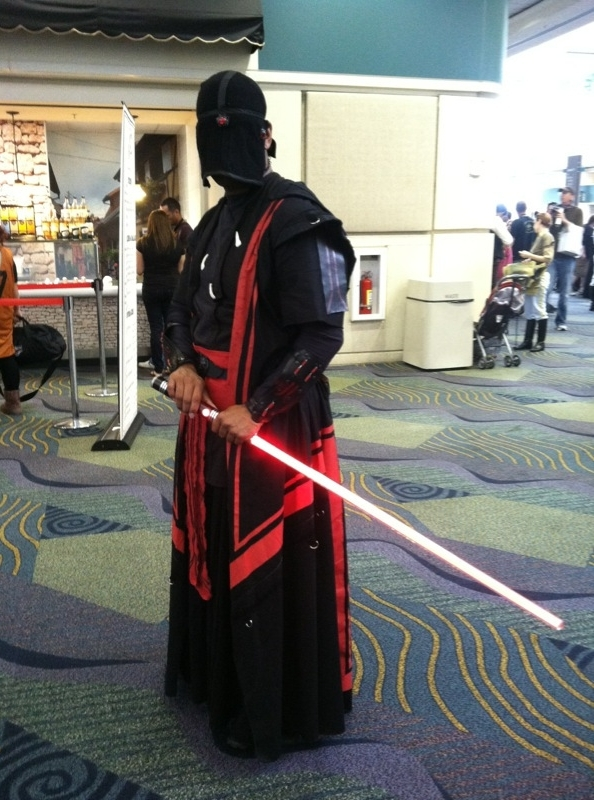 Dark side Miraluka at Celebration VI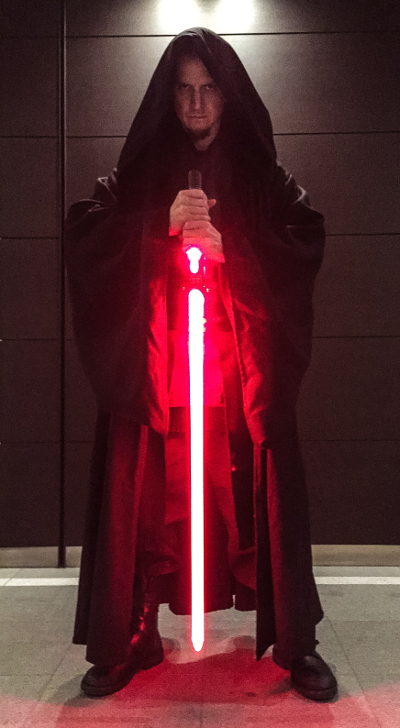 Unknown Sith Lord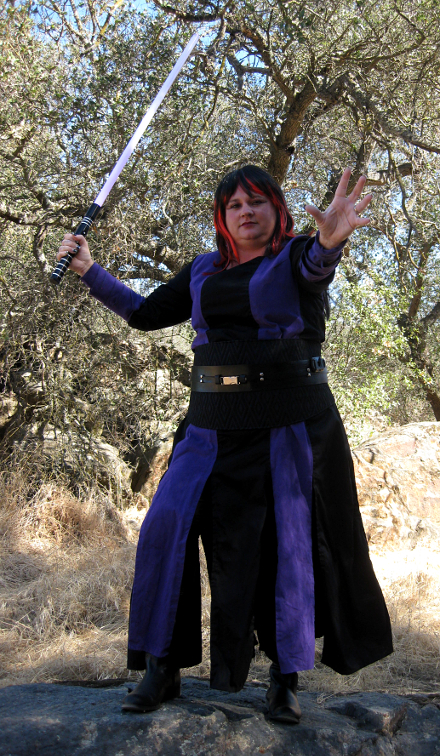 Jea'ann Custom Sith Outfit

Darth Chaac looking ominous!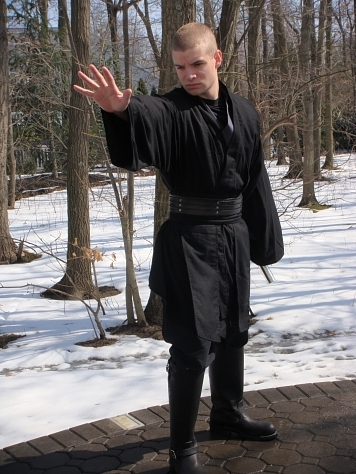 Christopher in his black cotton Sith ensemble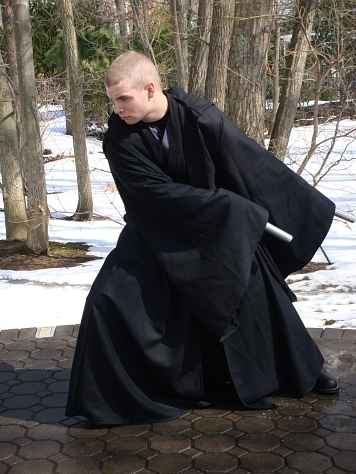 Christopher in his black cotton Sith ensemble
Chris in his custom created hooded silk noil tunic.
Chris modeling his new hooded silk noil tunic. A hooded tunic like this in raw silk or linen would cost $85. In a shirt weight cotton it would cost $60.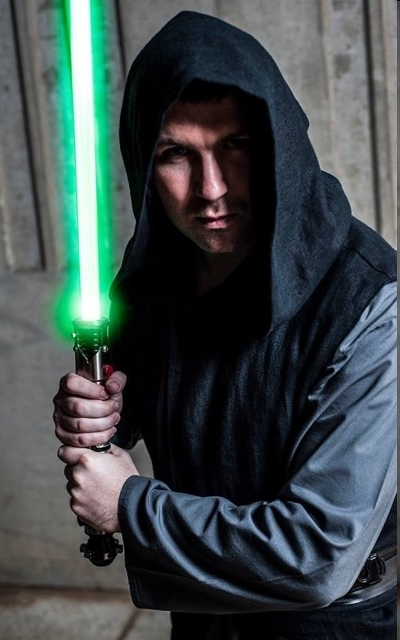 Custom Dark Jedi Linen and Cotton Costume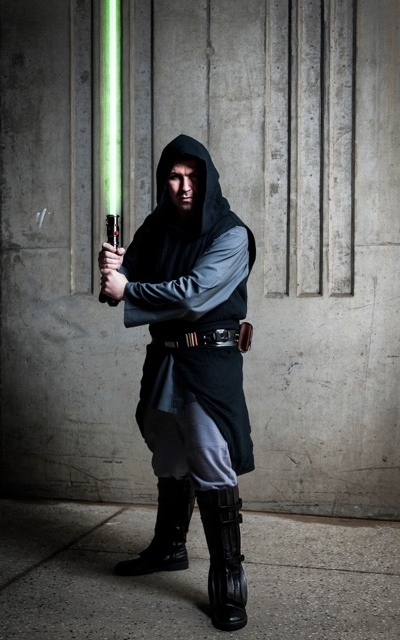 Custom Dark Jedi Linen and Cotton Costume
Kurt in his Palpatine style robe
A custom ordered Palpatine inspired costume made from sturdy earth brown 100% cotton duck, and black crush and spot resistant velvet. Decorative triangle element was a sheet of metal that was trimmed then embossed with a design to be similar to the original.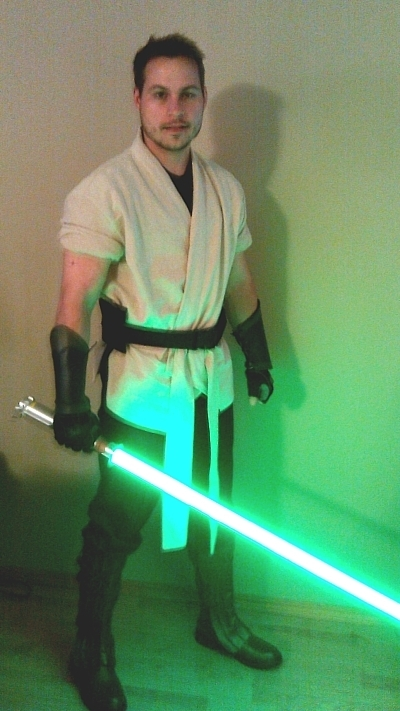 Joshua Jarvis Dreaming Robes
Based on a character from the video game "The Force II", this custom outfit consisted of a short-sleeved cotton osnaburg tunic with a shaped front and side slits. A matching cotton osnaburg long, thin waist tie was also made for this outfit. The customer purchased the remainder of the outfit from other places (leather pieces, belt, boots, etc.).
Thanks to Joshua Jarvis for modeling, and Katie Dickson for the photo!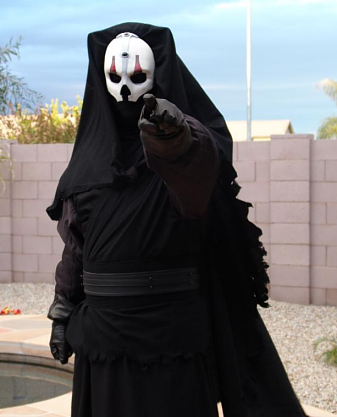 Custom Created Darth Nihilus Ensemble
This ensemble shown at left was a custom ordered outfit based on a drawing of the character Darth Nihilus, and was made from black 100% silk noil for the rectangular cloak, sleeveless hip length vest with sleeve caps, obi and skirt. The robe length tunic was made from black silk noil with quilted black matte satin sleeves. The outfit was distressed at the hemlines once completed.
The customer provided his own mask and cowl combination, leather belt and gauntlets to go with this outfit.
Thank you for modelling, Andrew! Photo by Debbie.