Movie Quality Fantasy Costume Portfolio
---
This page contains a small sampling of some of the many movie-quality fantasy based costumes that we have created for professional productions in the past. These items are one-of a kind, and were constructed to order. Please contact us to discuss ordering your own movie-quality custom costume.
Harry Potter Inspired Custom Costumes
---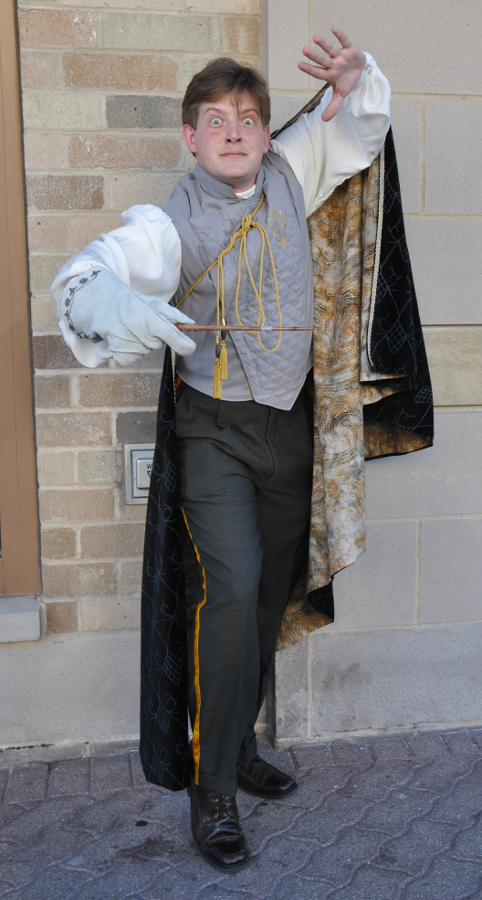 Gilderoy Lockhart Inspired Outfit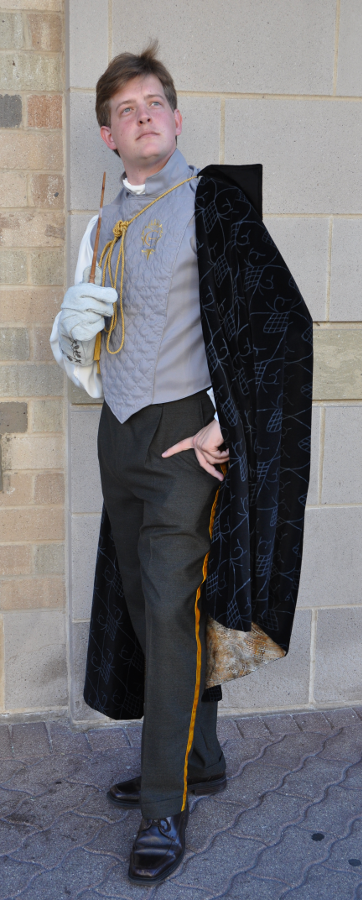 Gilderoy Lockhart Inspired Outfit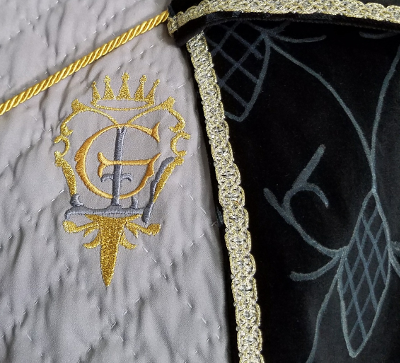 Gilderoy Lockhart Inspired Outfit Detail
This custom created outfit featured a duelling glove, doublet with attached sleeves, inner scarf/collar piece, cape, and embellished store bought pants. The cape outer fabric was black 100% cotton velvet with hand drawn white designs based on photos of the original and was lined with printed 100% cotton fabric with colors similar to the original. Cape closure was via gold cord terminated with matching tassels and beads, and the collar and front of cape had gold and silver braid trim to save on embroidery costs. The inner collar piece and the full sleeves were made from 100% silk satin charmeuse with the crepe side out for a more matte appearance. The body of the doublet was matte side out stretch satin embroidered with the character's monogram with embellished frame, and the front bib piece was hand quilted with the grid effect. Found glove was pin tucked three times at the back of hand, stitched at wrist and embellished with silver, gold, and bronze hand drawn designs. Customer supplied store bought trousers to which a hand dyed gold velvet ribbon was added along the outseam.
Many thanks to Eric Scull and Becky Clark for the great photos!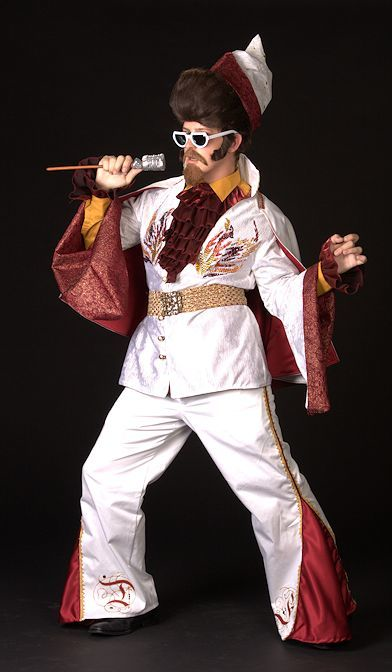 Elvis Dumbledore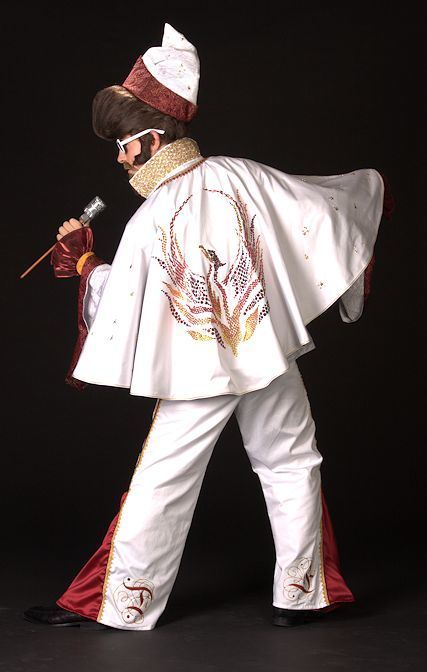 Elvis Dumbledore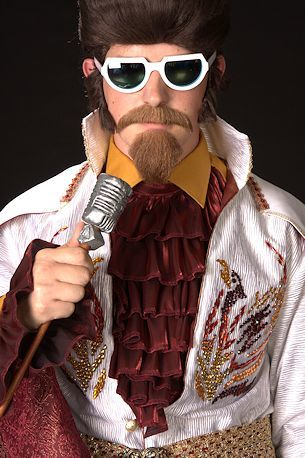 Elvis Dumbledore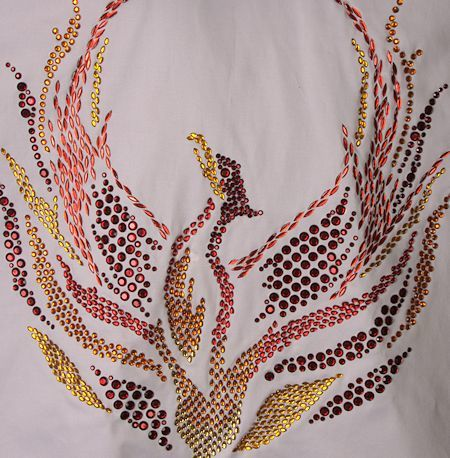 Elvis Dumbledore Costume Jewels Detail
The original, the one and only... Elvis Dumbledore! Designed and created by Andrea Wakely with the assistance of Camille Gray, featuring the talent and wizardry of Eric Scull as the King himself.
These costume pieces were inspired by several of Elvis' spangled and highly embellished suits, but with nods to the wizard world and the costumes from the first two HP films since this is a younger (much younger) version of Dumbledore. The 70's fashion points merged with medieval elements -instead of a spray-on spangled jumpsuit, there is a short tunic with smaller versions of the bell sleeves that Dumbledore favors later on in life paired with bell bottoms. The burgundy/gold and fiery colors are reminiscent of the older Dumbledore's film robes and Fawkes the phoenix, and Godric's sword motif is hidden in the monograms. Constellations meaningful to our wizard friend were hand stitched to the cape and several thousand acryllic rhinestones were hand glued in place to create the phoenix motifs on the tunic and cape.
The fun didn't stop after our photo shoot with the amazing Nina Rizzo - check out the YouTube video here.. Studio photography (c) Nina Rizzo 2013, Bristol, VA and used here with permission.
For more pictures and behind the scenes details from this project, check out our Facebook page and the Elvis Dumbledore page.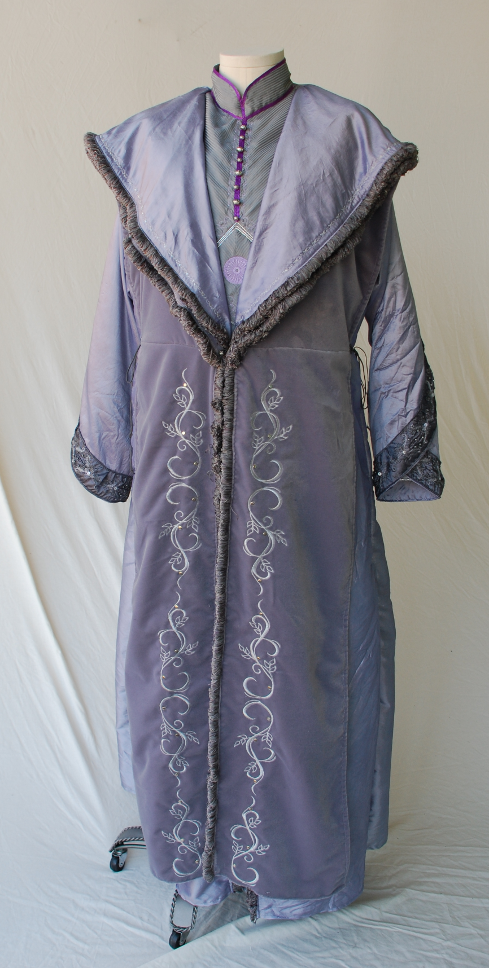 Head Wizard Inspired Ensemble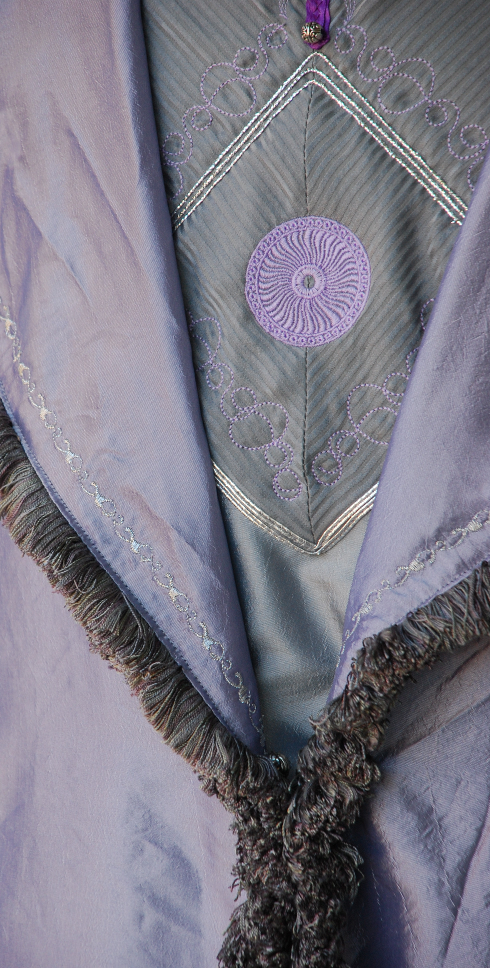 Head Wizard Ensemble Chest Stitching Detail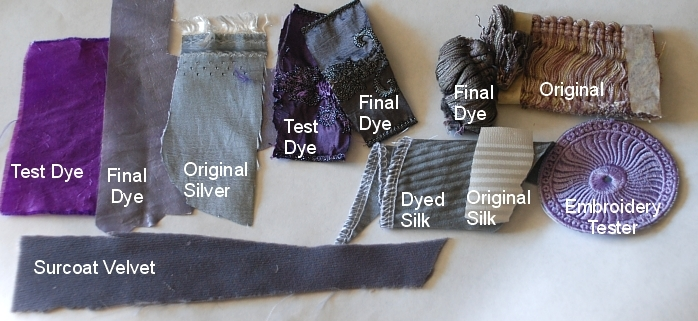 Fabrics used in the construction of the Head Wizard ensemble - showing the fabrics both before and after dyeing.
This custom created ensemble features a velvet surcoat with hand dyed fringe, silver custom embroidered motifs with silver stud accents and a hidden wand pocket. The hand dyed amethyst over robe has hand dyed trim and fringe and an embroidered motif along the edges of the lapels and collar. The silver grey under robe features hand dyed silk, custom digitized and embroidered motifs, couched cord and trims. The matching hat has a custom embroidered motif, along with a custom dyed button, and custom color stripped tassel. The trim on the hat matches the trim on the amethyst over-robe.
Due to the labor intensive methods used, and the unique nature of many of these trims and materials, this outfit cannot be replicated. An ensemble of similar complexity but using different materials would cost $1500 and up.
Chudley Cannons Style Quidditch Uniform
Chudley Cannons Style Quidditch Uniform Shin Padding Detail
Inspired by the magnificent Chudley Cannons Quidditch team, we created a gray sportswear knit fabric inner tunic with hood embellished with blaze orange, black and reflective trim and matching drawstring trousers. Orange sportswear fabric surcoat features a riding slit, embroidered and appliqued emblems, black ripstop cotton lining, and lace up sides. The shin guards were quilted leather and are worn in conjunction with leather covered knee protectors. Not shown: orange and black gauntlet gloves.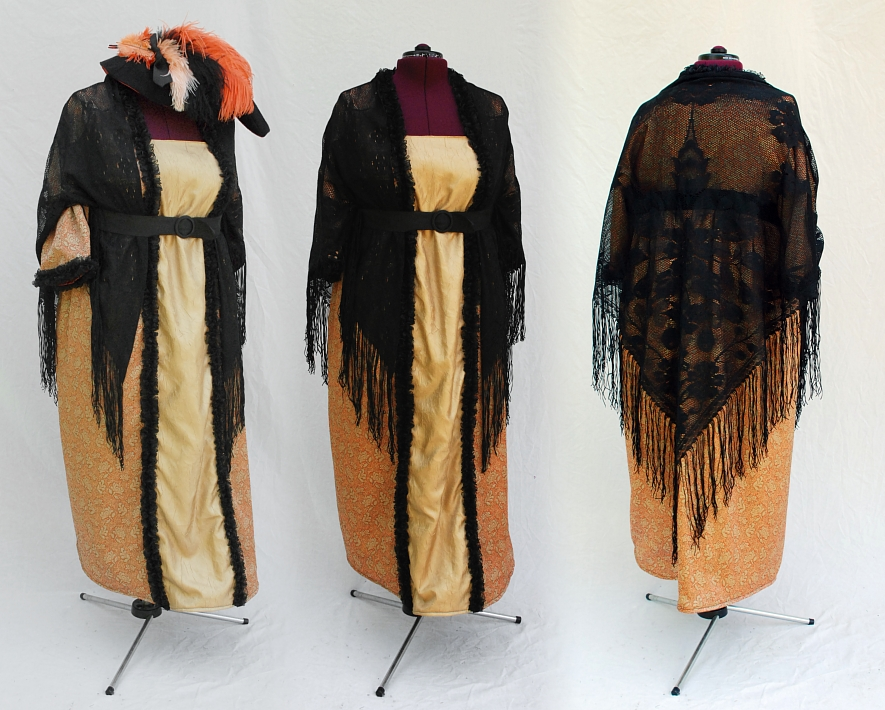 1918 Style Pumpkin Witch Costume
Inspired by vintage turn of the century Halloween greeting cards, this pumpkin witch costume is based on a 1918 tea dress pattern. The gown was made from textured gold fabric and orange and gold brocade lined with burnt orange colored satin. Black ruffled organza embellishes the sleeve ends and down the center front. This one-of-a-kind witch's costume came with a black fringed shawl, decorative belt and burnt orange lined black wool hat embellished with black ribbon and black and orange ostrich feathers. We made the hat with a black comb inside to help it stay on the head as well as two ties for under the chin. Hat and sleeve end are shown above left, front and back of the costume with belt and shawl shown middle and right above.
Star Wars Inspired Custom Costumes
---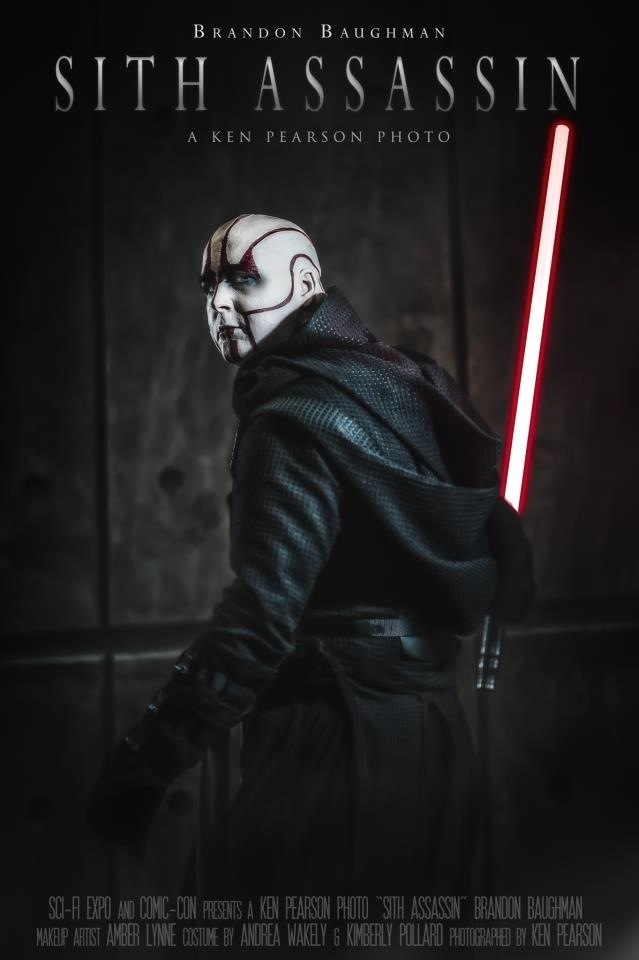 Sith Assassin Custom Star Wars Costume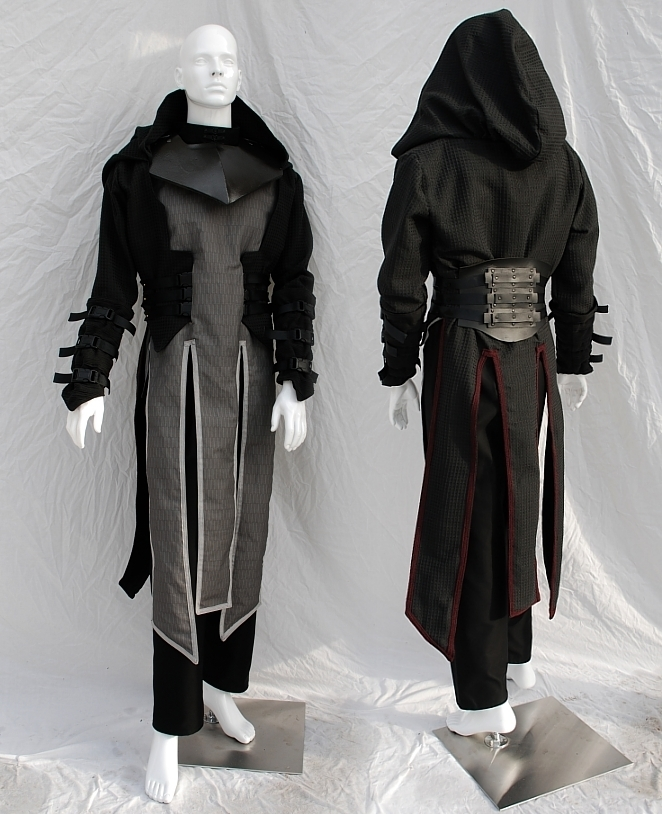 Sith Assassin Custom Star Wars Costume
This custom ordered Sith Assassin costume was a collaborative effort between us and Kim Pollard. Kim created a foam and a fiberglass gorget set so that the customer had two different options for different looks. The grey inner piece was made from custom printed fabric with a pattern like that shown in a close up of the character's game rendering and was lined with grey cotton twill. The grey piece had a front opening for the belts to pass through, and the front tabard like pieces were edged with silvery grey trim. The outer black layer was made from a textured cotton lined with black cotton twill, and featured two hoods, one with a 'visor' that acted like a standing collar when down. The black layer had textured burgundy edging on the tabard-like pieces. Arm bracers from textured cotton, black cotton twill drawstring pants, and a leather and webbing belt completed the ensemble.
Not currently available as a custom order.
Bradon Baughman shared this AWESOME photo of himself in this one of a kind costume, photograhed by the very talented Ken Pearson.
Check out Ken's here, and his Flikr stream here.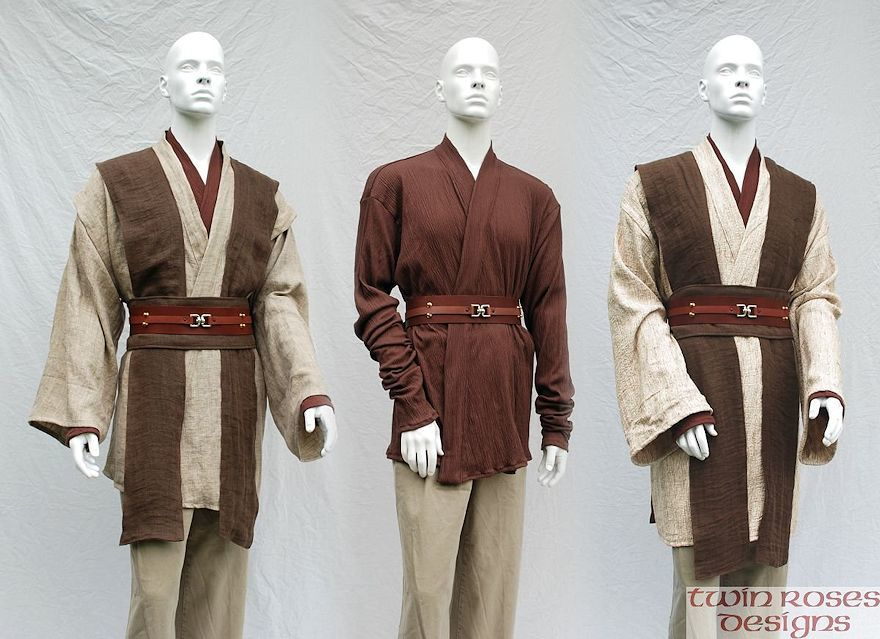 Silk and Linen Jedi Style Tunic Sets
Different Jedi style tunic sets and pieces: from left to right is a variegated linen tunic, crinkle textured stretch rayon tunic, and at right wild silk tunic. The linen and silk tunics are shown with earth brown linen tabards and obi, along with a brown leather Jedi style belt. These tunic fabrics are no longer available - please see our Men's Costumes for Sale page for currently available options.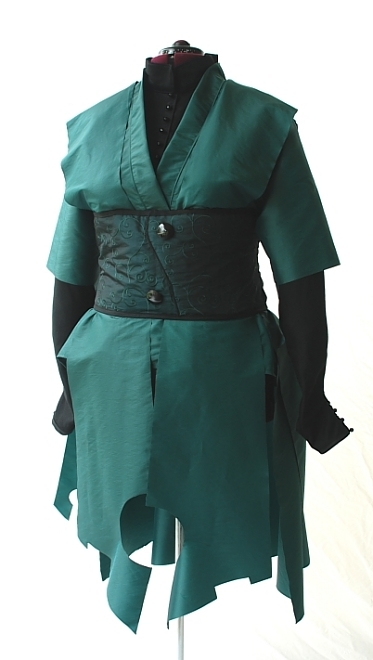 Steampunk Jedi Costume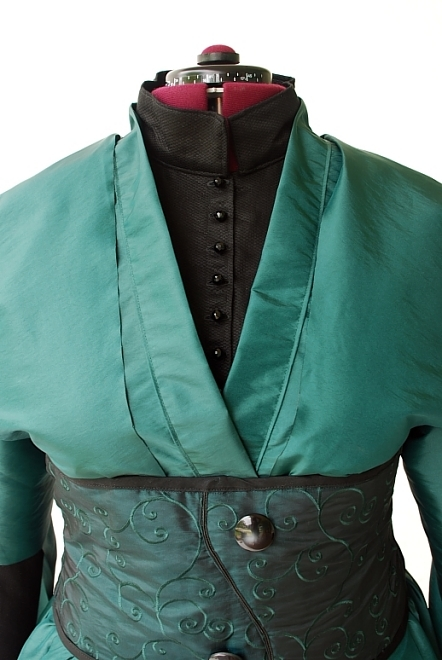 Steampunk Jedi Detail
Custom made Steampunk style Jedi outfit, based on an Alternate Universe character. The black 100% cotton pique under shirt featured many, many black faceted buttons down both the front and the forearm to the knuckles. The unusual sleeves on this undertunic extended over the back of the hand and covered part of the palm leaving a space for the thumb. The teal synthetic taffeta tunic had elbow length sleeves with tippets/streamers burned out in a geometric design. The teal taffeta tabards were a single layer with different burnt out geometric patterns. The embroidered taffeta waist cincher was heavily boned and embellished with soutache and buttons. This piece laced closed through grommets in the back.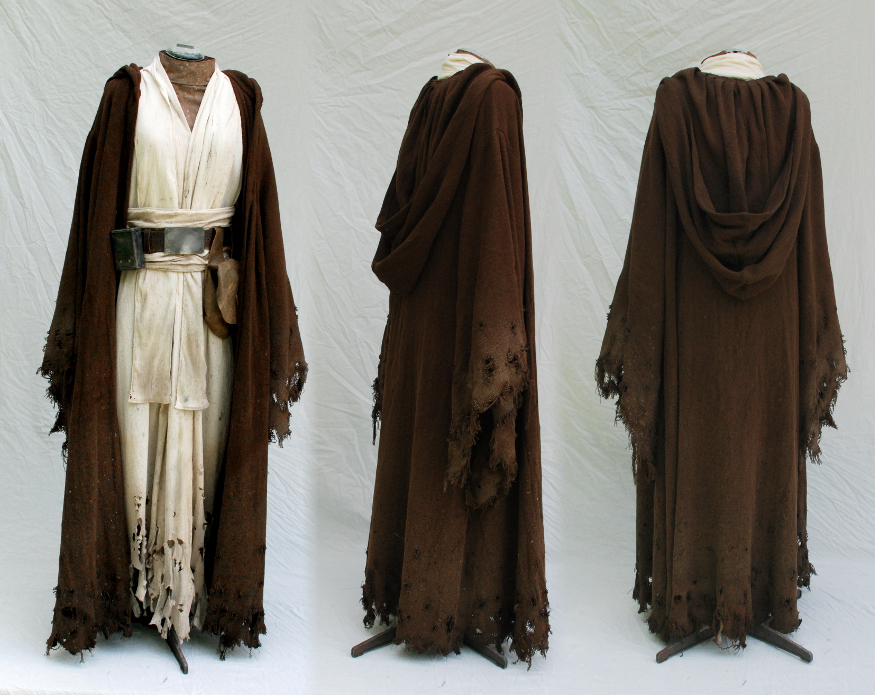 Old Obi Wan Aged and Distressed Costume
A 2016 version of our Old Obi Wan style costume. This unique, one of a kind costume was distressed and aged to look like the character had been out in the desert for quite some time.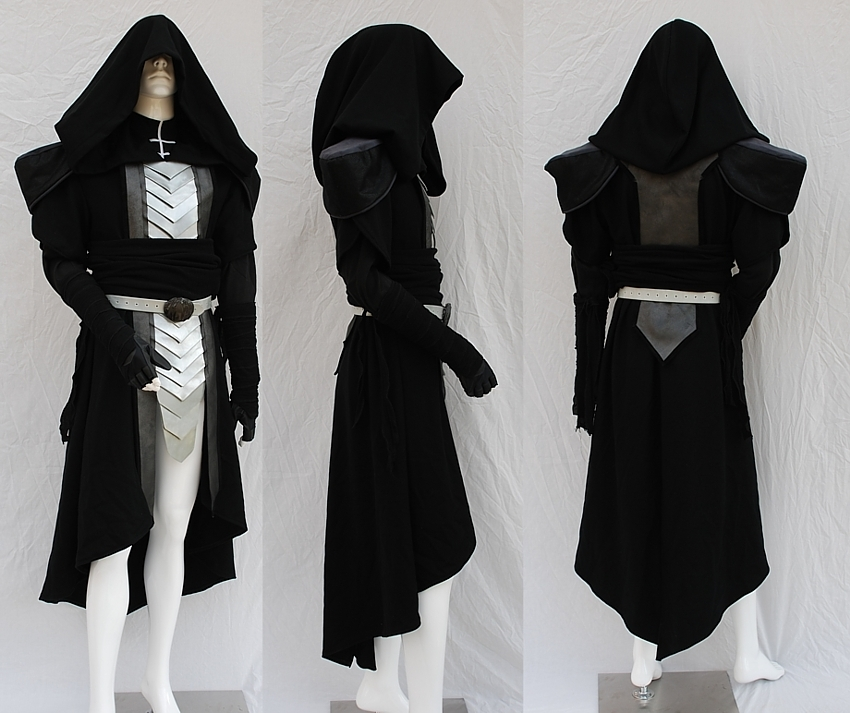 Lord Morthor Custom Sith Costume
Another creative collaboration with Kim Pollard! This custom ordered Lord Morthor inspired costume featured leather work by Kim Pollard in black, pewter and silver for the surcoat and belt. The mock turtleneck was embellished with white stripes to match the character rendering. The wool robe had a shaped hemline and wrapped short sleeves. The attached epaulettes were made from pleather and slate grey faux suede with custom made piping to match. Fingerless gloves, a wide wrapped textured cotton obi, and arm pieces made to look like arm wraps (but which easily fasten with velcro) completed the ensemble. The hood is up so you can see more of the back of costume details. We changed the orientation of the belt buckle from the original so it would not impale the customer's abdomen during stunt work.
Count Dooku Inspired Outfit
Count Dooku Inspired Outfit Belt and Cloak Details
Custom ordered Dooku inspired costume: black cotton twill pants and tunic, custom leather belt, and brown wool cloak with quilted shoulders and copper lining. The cloak clasp was extended into a chain closure by the addition of two sizes of chain links.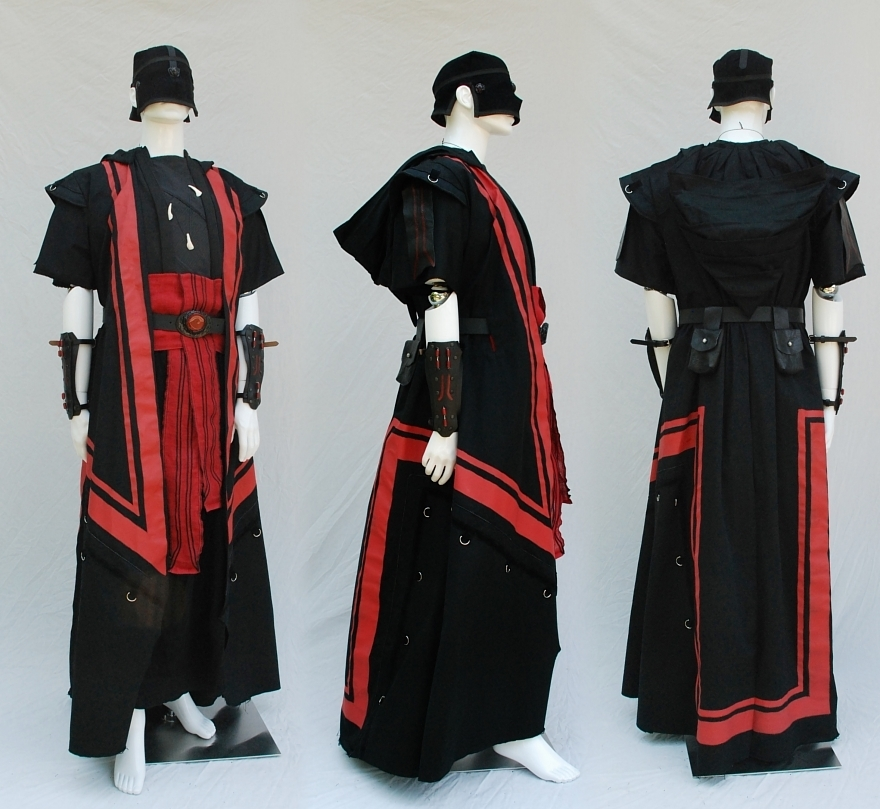 Miraluka Sith Outfit
A one of a kind custom order! This mixed media work of art was the result of taking light side Miraluka reference images and sending them to the Dark Side. The hand painted robe features couched leather cord, pleather, leather, and metal accents. Leather bracers also have hand painted and metal accents. We embellished the belt buckle and made the belt and belt pouches shown. Inner tunic features a textured and pieced insert front and fold back 'lapel' accents. Textured linen obi and sash drape with couched cord top off the main part of the ensemble. The hood/mask is made from a textured cotton embellished with leather, red glass, paint and bias tape. Necklace with real teeth was also included. Detail images follow. Special thanks to Life Force Glass in Kingsport, TN for the glass 'gem' used in the belt buckle.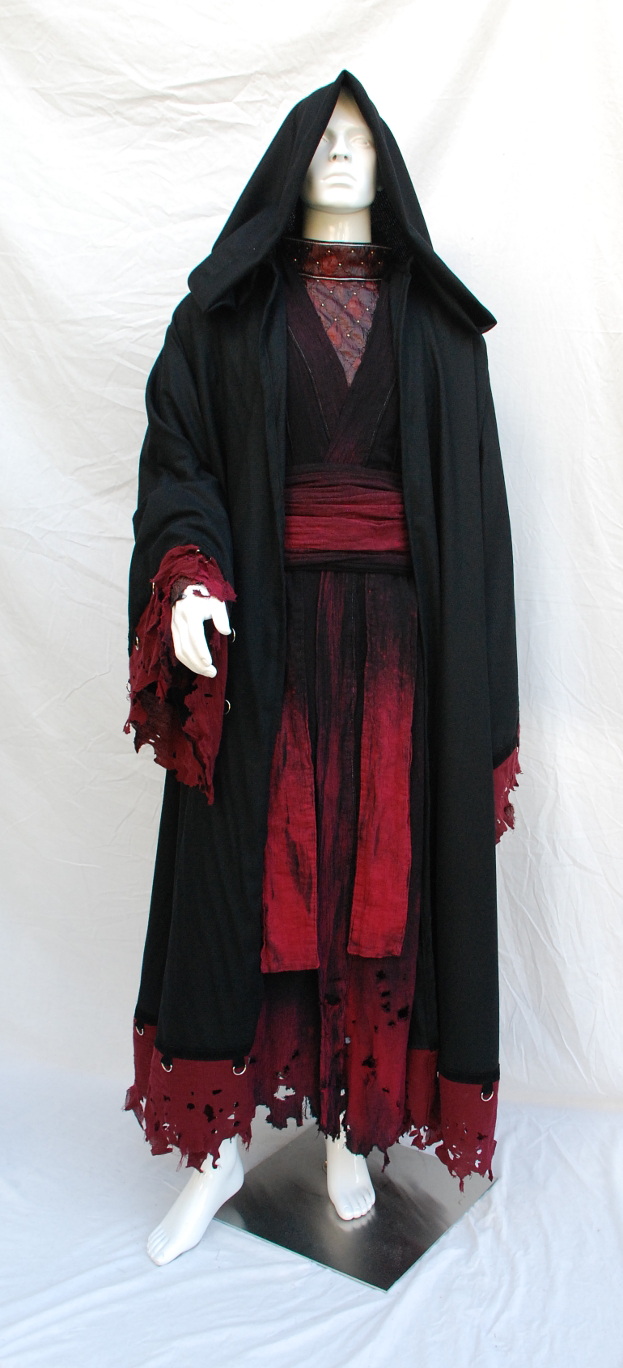 Dark Obi Wan/Senator October 2015
Custom ordered Dark Obi Wan variation - this character used to be well off, perhaps a Senator, then turned to the dark side. Some elements of splendor remain - the quilted inner tunic embellished with silver, silver stitching and detailing.
This exact costume cannot be replicated - it is one of a kind!
The reds are actually more burgundy than shown here- our camera shifted the color.
Assassin's Creed Inspired Custom Costumes
---
Assassin's Creed II Ezio Inspired Costume
Assassin's Creed II Ezio inspired custom costume. The white cotton shirt featured uniquely shaped sleeves and lace at cuffs and collar/front opening area. The tunic and vest were made from cloud grey organic cotton twill lined with shiny red satin. Each tunic panel was embroidered and then embellished with silver braid, and the insides of the back panels and vest collar featured the same border motif in gold. The inside collar embroidery was edged with gold braid. The vest featured rows of red satin ribbon appliqued in place with pale grey thread and silver braid decorates the edges of the front and hemline. Unlike the original design, the cap sleeves with braid, trim and appliqued red satin were moved to the tunic layer, and the collar was moved to the vest per customer request. The hood is completely detachable. See below how it looks with the customer's other costume pieces!
This costume represents over 58 hours of labor time, including 22 hours of embroidery (not including digitizing time for the motifs kindly provided by the customer). Thanks go to Garry for digitizing, embroidering and helping sew closures on the hood, and to our intern Camille for minding the embroidery machine for a red panel, pinning some silver braid in place for Andrea to sew, and for assisting with the creation of the shirt.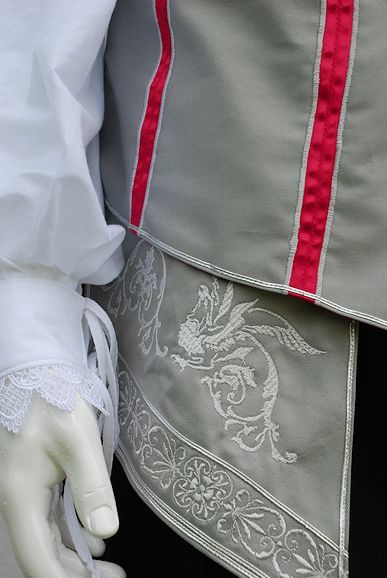 Assassin's Creed II Ezio Inspired Costume Embroidery Detail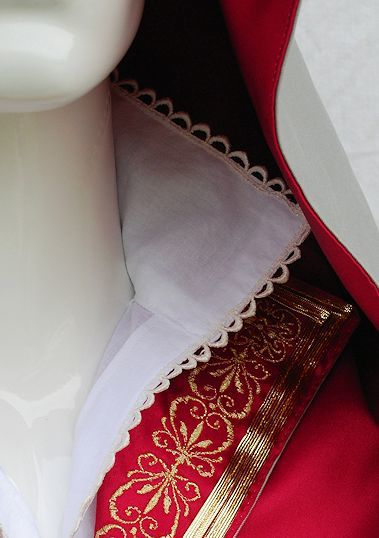 Assassin's Creed II Ezio Inspired Costume Collar Detail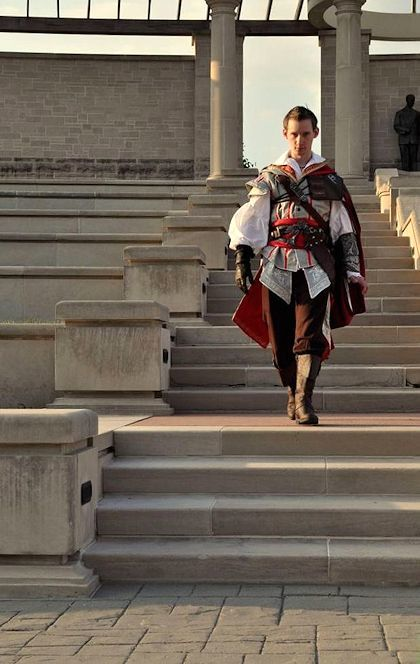 Rick in his Assassin's Creed II Ezio Inspired Costume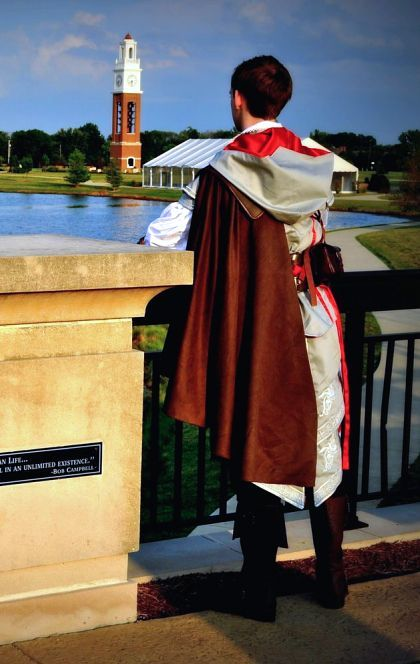 Rick in his Assassin's Creed II Ezio Inspired Costume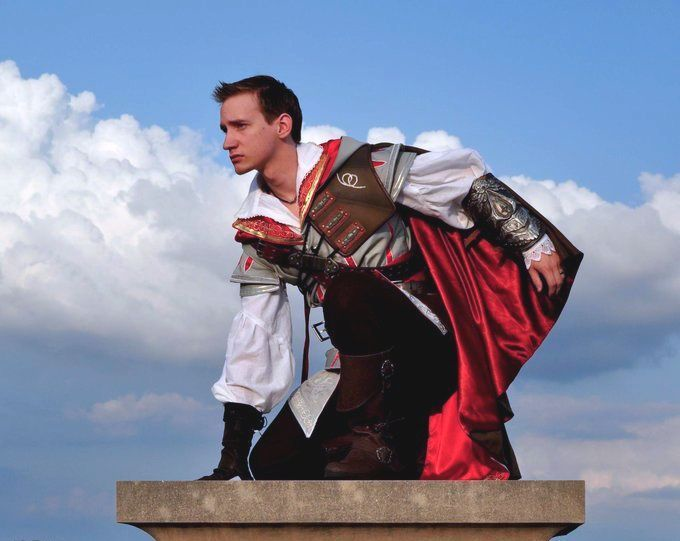 Rick in his Assassin's Creed II Ezio Inspired Costume
Thank you Rick for providing the great photos of this outfit in action!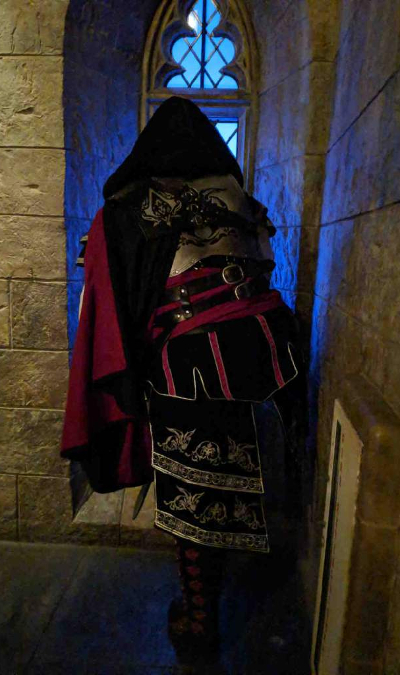 Wendy in her Assassin's Creed II Ezio Inspired Costume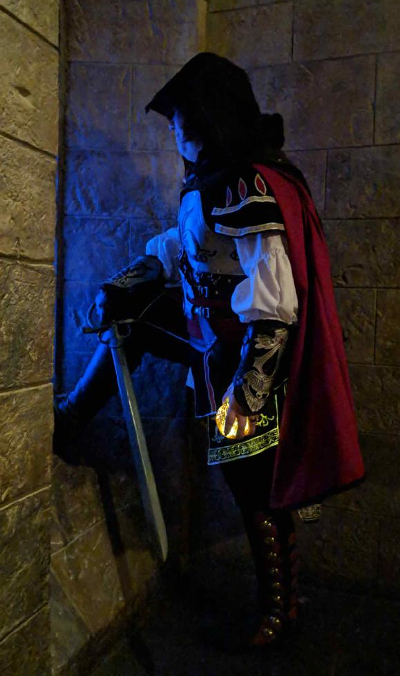 Wendy in her Assassin's Creed II Ezio Inspired Costume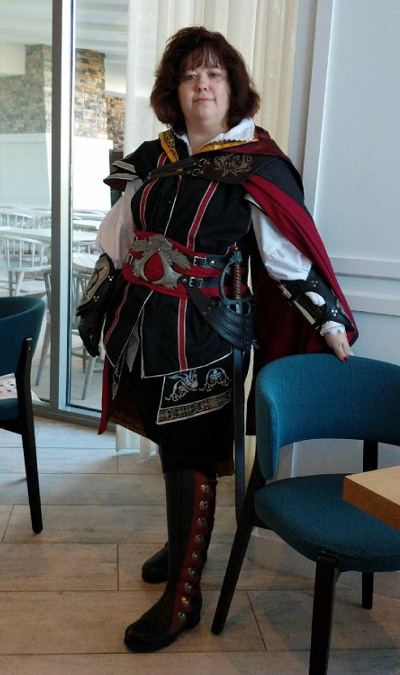 Wendy in her Assassin's Creed II Ezio Inspired Costume
Thank you Wendy for these great photos! Photography by Jim Shaw at Universal Studios and Universal's 'Islands of Adventure', photo editing by Andrew Warner of Themed Shots. Armor by K and R Armory and boots by Son of Sandler.
Connor from Assassin's Creed III Inspired Costume
Based on Connor from Assassin's Creed III, this costume was made from white and blue faux suede with brown faux suede and leather accents, this custom ordered Connor costume jacket and surcoat were lined with 100% cotton twill. Historically accurate blue breeches and red waist sash were created from 100% linen. Minnetonka men's fringe boot moccasins were matched to a leather hide for the leg wraps and arm bracer. This costume also featured stylized eagle embroidery on the detachable hood, and a hand cast pewter accent on the arm bracer. Beadwork on the arm bands by Molly Murphy Adams, wrought iron belt emblem smithed by Micah Hensley. Not including the beadwork or the blacksmithing, this costume took approximately 70 hours to create. Hats off to the original costume designer for the game - they managed to beautifully integrate historical Rev. War era costume elements (i.e. French Marine coat) with Native American accents while making subtle references to previous costumes in the Assassin's Creed series.
Details of Connor from Assassin's Creed III Inspired Costume
Connor Assassins Creed III Inspired Costume
Several weeks after the initial costume was completed, we worked with Kim Pollard to create the one-of-a-kind leather baldric, quiver, belts, holsters, and belt pouch (seen here with the original surcoat).
Detail view of Connor's quiver.
Brandon as Connor.
Assassin's Creed IV Inspired Costume
Custom ordered costume inspired by a character from Assassin's Creed IV. Seen here: natural colored hemp drawstring pants, white linen lace up front shirt, and red open woven linen sash. The hood, waistcoat and 'coat-tail' streamers are all cotton twill embellished with over 40 yards of gold braid and ribbon. Thanks to Camille who helped construct and embellish the waistcoat, sash and shirt. After these photos were taken, the shirt was tea dyed and some permanent 'dirt'/'stain' paint was added.
Lord of the Rings Inspired Custom Costumes
---
Aquatic Elven Custom Outfit
This custom ordered ensemble was inspired by elves and an aquatic theme. The under robe fabric was a moire like rippling water with tone on tone leaves and silver cording at the sleeve and garment hem. The translucent lightweight silk over-robe was hand dyed from white to pale blue with silver leaves. The over robe bell sleeves can be gathered up with a blue shell shaped button and loop. A pewter scallop brooch and silver silk dupioni sash belt with cords, iridescent soap bubble like accents, beach glass beads and seashells complete the look.
Armored Aquatic Elrond Inspired Costume
Armored Aquatic Elrond Inspired Costume
This unique aquatic elven costume featured a lined brocade under robe with silver overlaid silk dupioni inner sleeves, hundreds of hand sewn mother of pearl sequins around the upper chest, and silver trim. Over top was a hand dyed silk velvet cloak with pewter scallop decorative clasps at the shoulders - this was lined with a silver and gray brocade. The belt was silver leather hand cut and pieced, then embellished with silver cording and a silver and brass colored metal central decorative element. Thanks go in particular to Alethea and Garry for their many hours assisting with the creation of this one of a kind costume.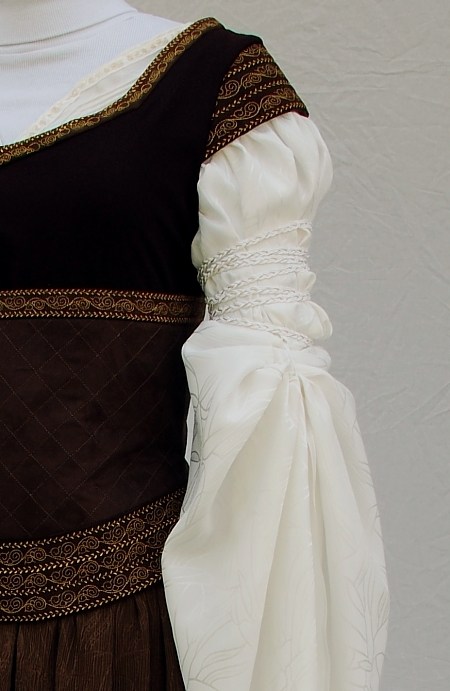 Shieldmaiden Inspired Outfit Detail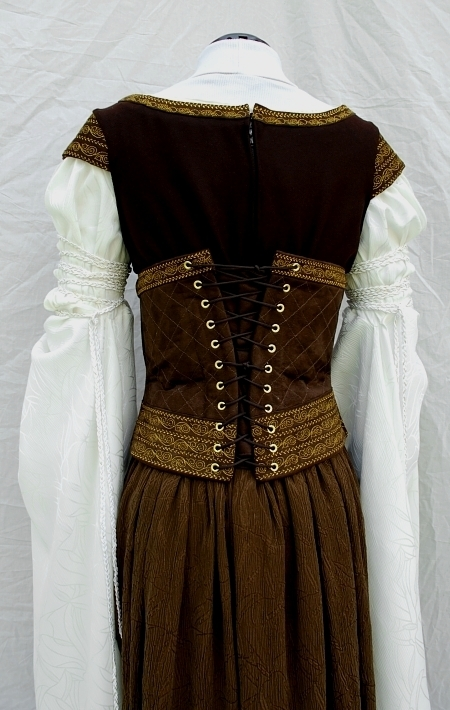 Shieldmaiden Inspired Outfit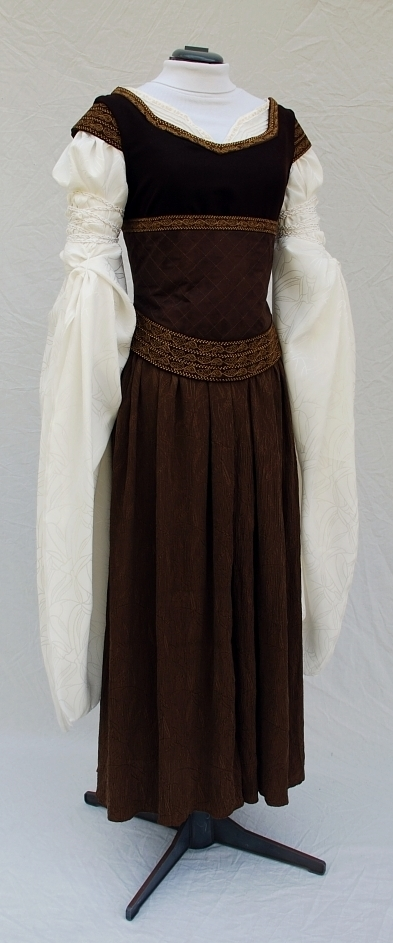 Shieldmaiden Inspired Outfit
Deceptively simple looking, this Sheildmaiden inspired outfit is amongst the most complex of costumes that we have ever created.
The under-dress is made from 100% crinkle silk jacquard that has pin-tucks and gold embroidery at the neckline. The bicep areas of the sleeves are wrapped in hand-braided cording with a single gold thread interwoven. The skirt is made from the same silk jacquard that was hand-dyed to chestnut brown. There are 15 yards of silk in this outfit.
The brown wool bodice/vest has gold embroidered faux suede sleeve caps and neck facing. The quilted faux suede waist cincher has multiple rows of embroidery, boning for structure, and 22 brass 2-piece grommets in the back for lacing.
There are nearly 100,000 embroidery stitches in this outfit! Due to the embroidery designs being both directional and curved, each stitch you see here had to be individually digitized.
Due to the special materials used, this outfit cannot be exactly re-created, but a similarly embroidered and embellished outfit using comparable materials will cost $2800 plus shipping cost and will require a 12 week lead time to create.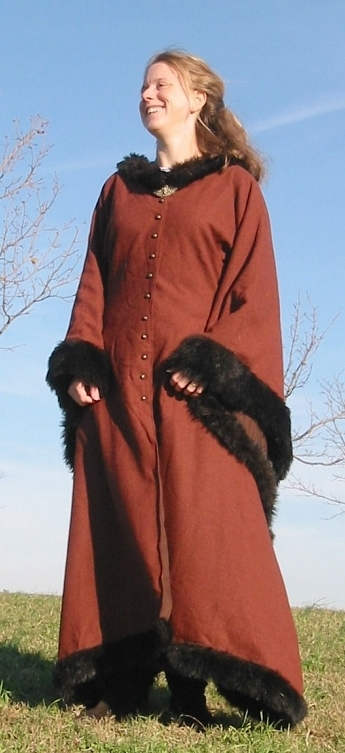 Eowyn Inspired Wool Travelling Coat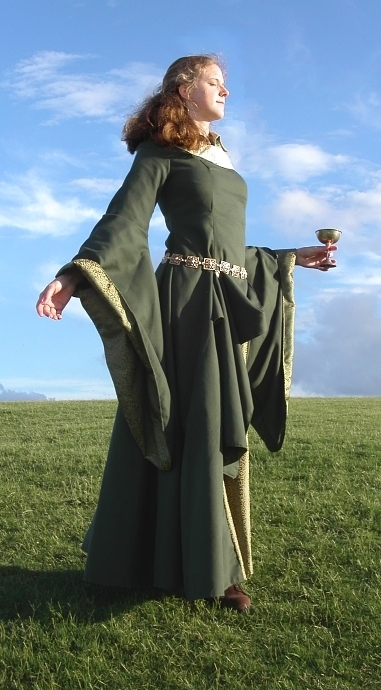 Eowyn's Green Gown
Complete Frodo Style Ensemble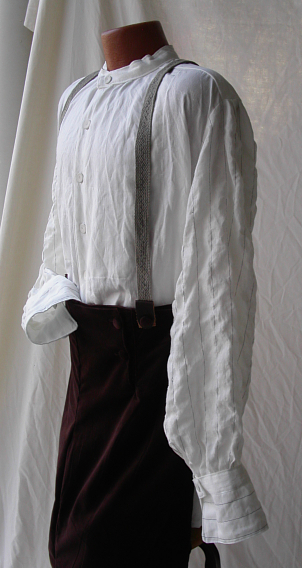 Complete Frodo Style Ensemble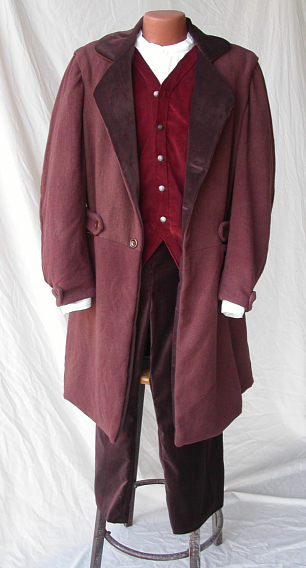 Frodo Inspired Frock Coat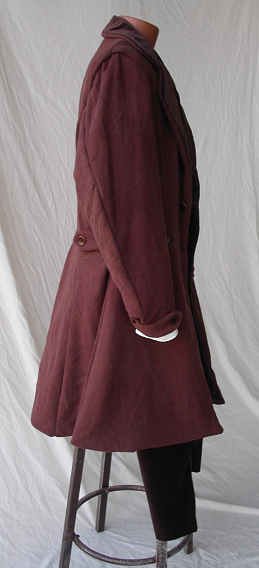 Frodo Inspired Frock Coat
This custom ordered hand made ensemble inspired by Frodo in Lord of the Rings included: halfling style semifelted wool herringbone woven hunter green cloak with leather buttons and self lined hood, hand dyed chocolate and russet herringbone woven wool frock coat lined with cotton twill and with a chocolate brown cotton velvet collar and facing, chocolate cotton velvet buttoned fall trousers with pockets at the side seams, handmade and weathered suspenders, rust cotton velvet waistcoat with ring pocket and two lower on-seam pockets and linen shirt with vintage German linen and thread ring formed buttons and machine stitched pinstriping detail on the sleeves and cuffs. These exact materials are no longer available.
Costumes from Other Fantasy Worlds
---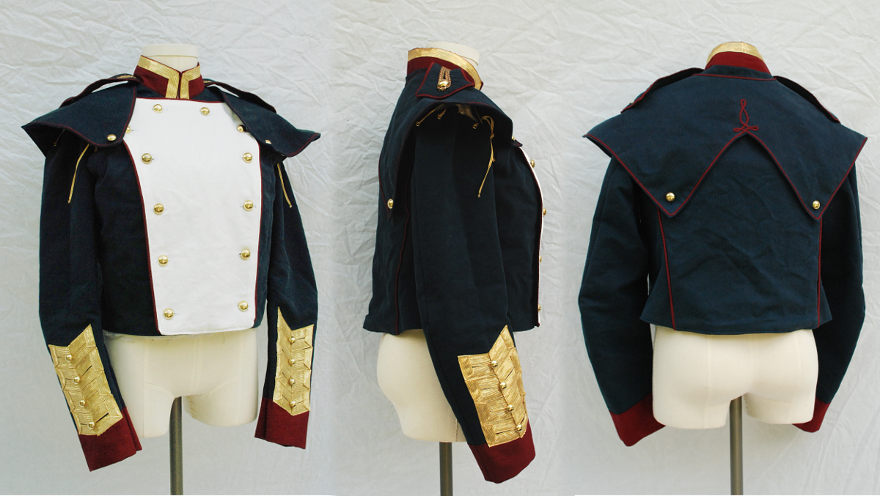 The Order: 1886 Lafayette Jacket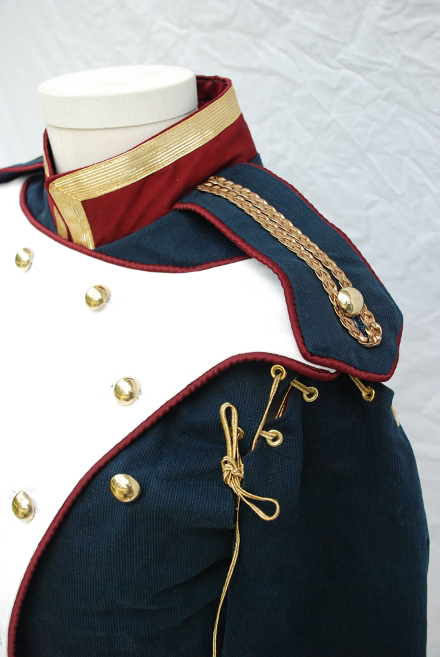 The Order: 1886 Lafayette Jacket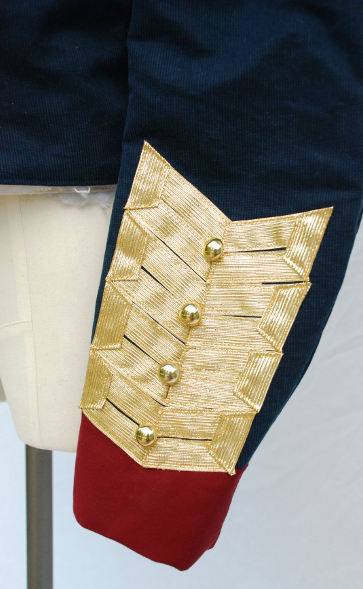 The Order: 1886 Lafayette Jacket
Based on a costume for The Order: 1886, this custom ordered jacket featured a reversible bib front, removable sleeves, and removable shoulder cape in navy and ivory bedford corduroy. Jacket fatured handmade burgundy piping, braid and leatherette embellishments.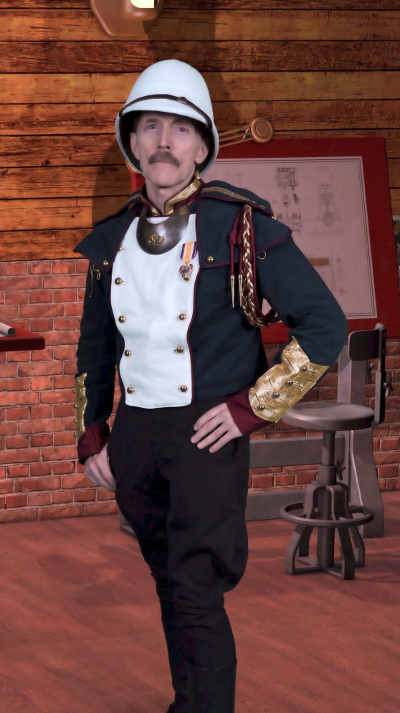 Jim in his completed outfit at TeslaCon 2016. Photo by Scott Johnson of Realtime Portrait Studios, used here with permission.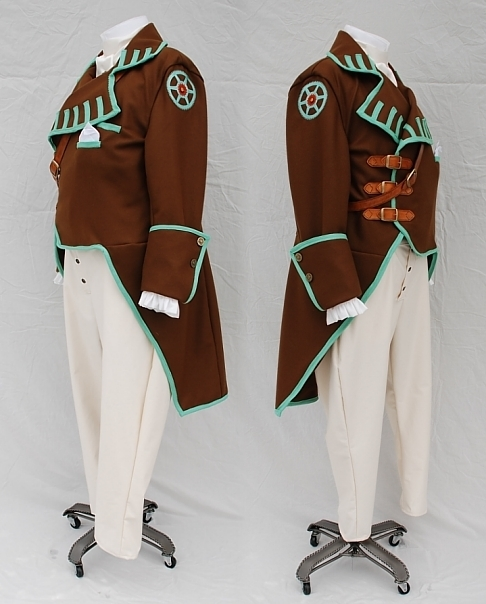 Steampunk Airship Captain Ensemble
Based on an artistic rendering provided by the customer, this custom made Steampunk Airship Captains outfit was done in colors representing the various shades of copper - from new penny through to verdigris, with brass accents. The asymmetrical coat featured custom digitized and embroidered gear motifs, bronzed gear buttons, and leather accents by Kim. The other parts of this ensemble were a white cotton Victorian style shirt with tall collar and mother of pearl buttons, an ivory silk cravat with bronzed watch mechanism pin, and natural organic cotton twill gear button fly trousers with back waist gusset and button flap pockets.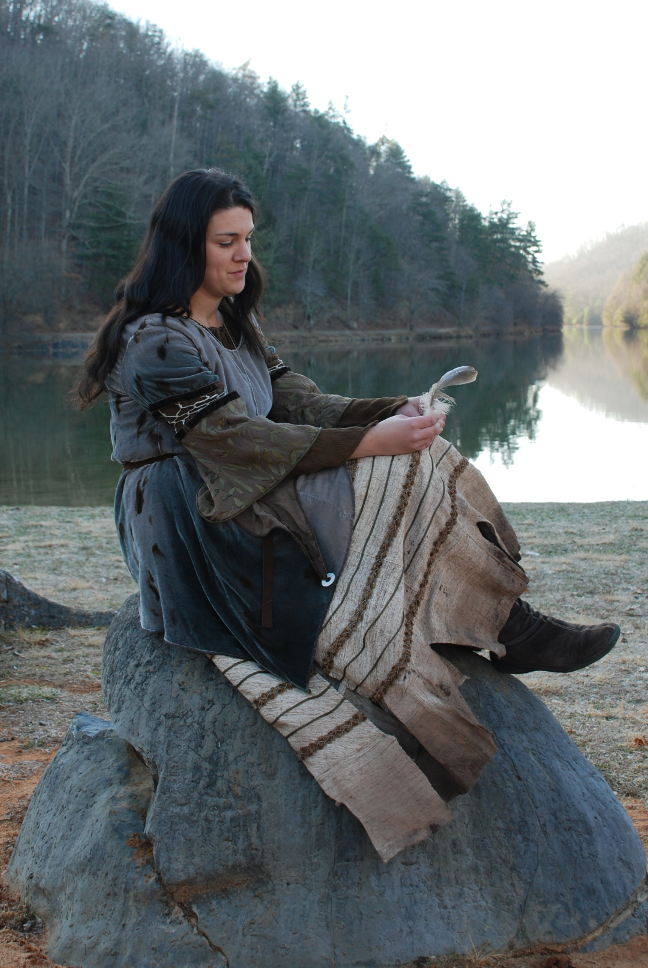 Original Design Selkie Costume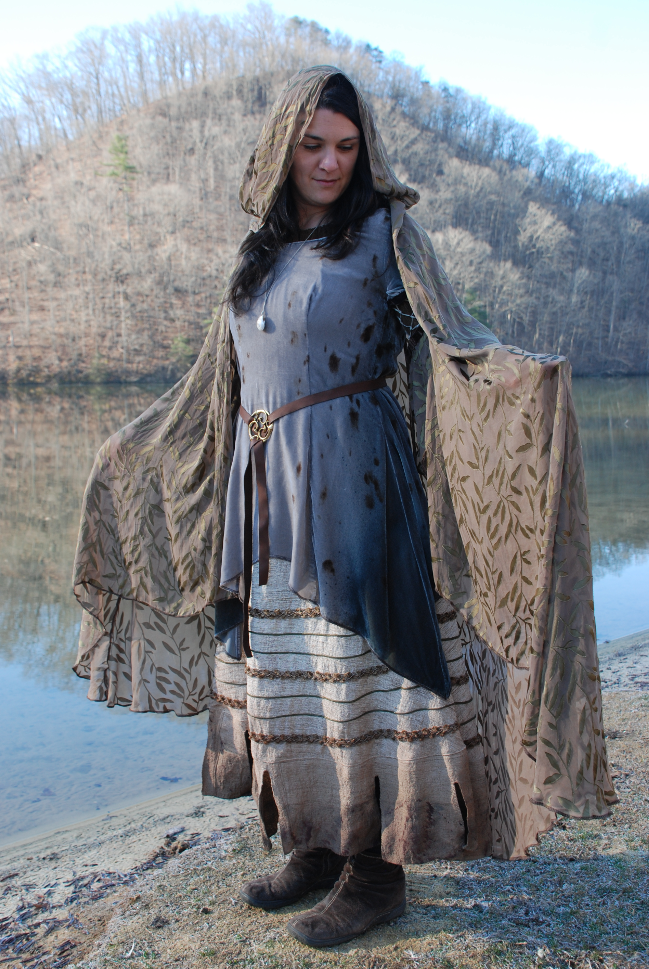 Original Design Selkie Costume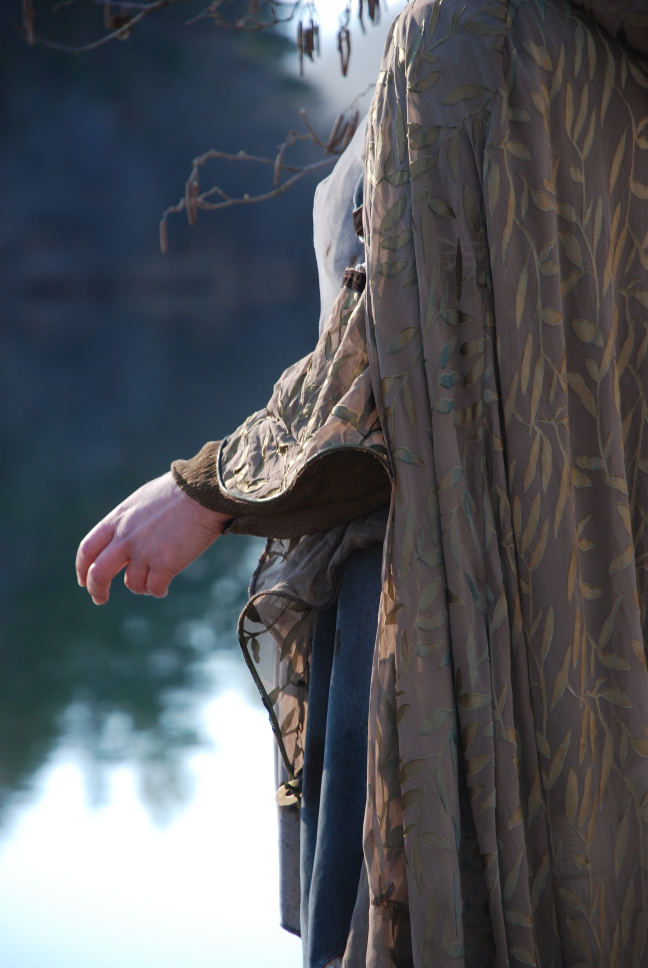 Original Design Selkie Costume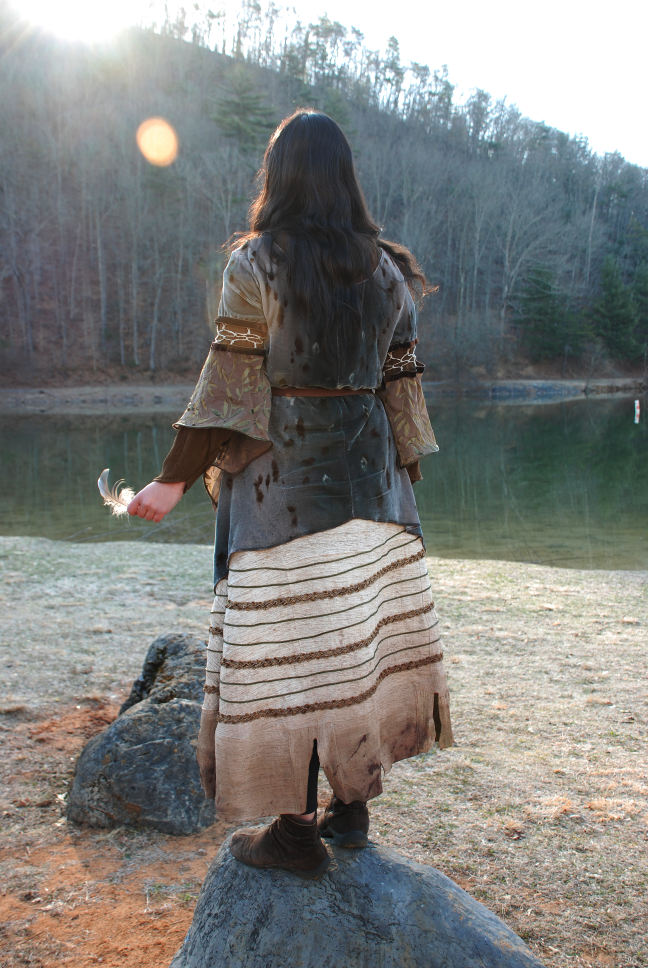 Original Design Selkie Costume
This original Twin Roses Designs costume was inspired by the legend of selkies – in the water they are seals, but on land they shed their skin and become people. If a human captures the skin and hides it, the selkie can not turn back to a seal and must remain on land. However, if the selkie can find their skin, they can escape and return to the sea as a seal. What if one day a wise selkie woman found a way to carry her skin with her on land without remaining a seal? What would a selkie wear, anyway, if there were no clothes to 'borrow' from a clothesline? It would be rather conspicuous to wander around Lady Godiva style. What if this magical being used some of that transformative power to fashion dried grasses, seaweed, shells and other found materials into materials that could become her clothing?
These questions led to the selkie woman costume shown here. The skirt was formed of two silk tussah patchworked panels with brown and green braid embellishments, then hand painted to look muddy around the hemline. The silk undershirt/chemise was made of hand dyed brown silk with leafy seaweed like patterns. The cloak and lower sleeves were crossdyed silk and rayon burnout fabric in another seaweed like pattern - the cloak fastened via a mother of pearl slider buckle and brown braid and the lower sleeve was embellished with brown velvet ribbon, olive cording and a mother of pearl weight at each tip. The silk velvet tunic was hand dyed and embellished to resemble a seal's pelt. The lower sleeves attached to the silk velvet tunic by hand knotted hemp cording reminiscent of a fisherman's net. An aquatic snail shell necklace and a leather belt sliding through a triskele shaped gold buckle completed the ensemble.
Original design by Andrea Wakely. Many thanks to Rachel Wheeler for modeling, Garry Wakely for his master dyer skills, and Camille and Alethea for their support.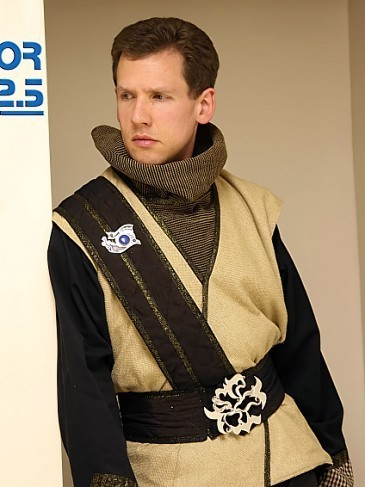 Custom Created Minbari Ranger Ensemble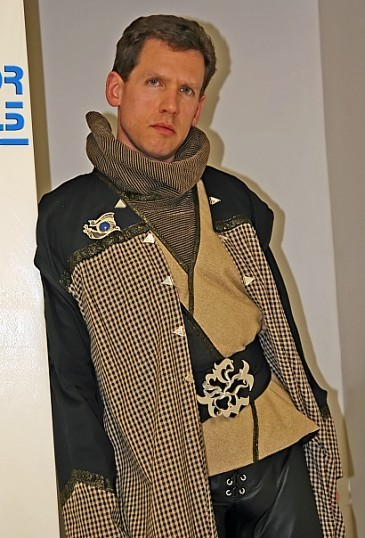 Custom Created Minbari Ranger Ensemble
This outfit is based on one worn by the Ranger Marcus in the science fiction series Babylon 5. This multilayered and detailed outfit consisted of a cotton undershirt with large collar, silk overtunic with trim, machine quilted and embellished belt and baldric, and cotton over-robe with sterling silver triangluar accents.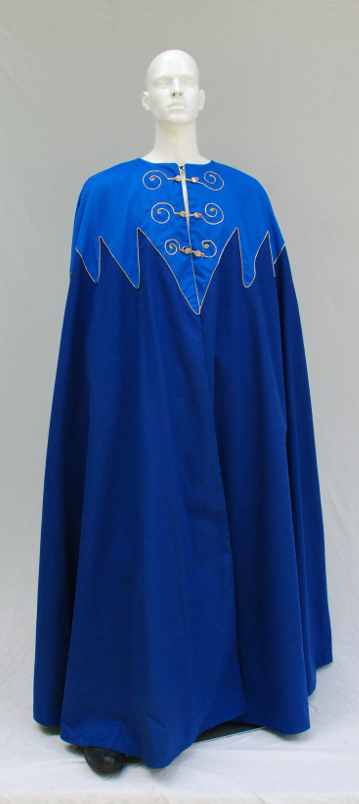 The Sixth Dr's Blue Cloak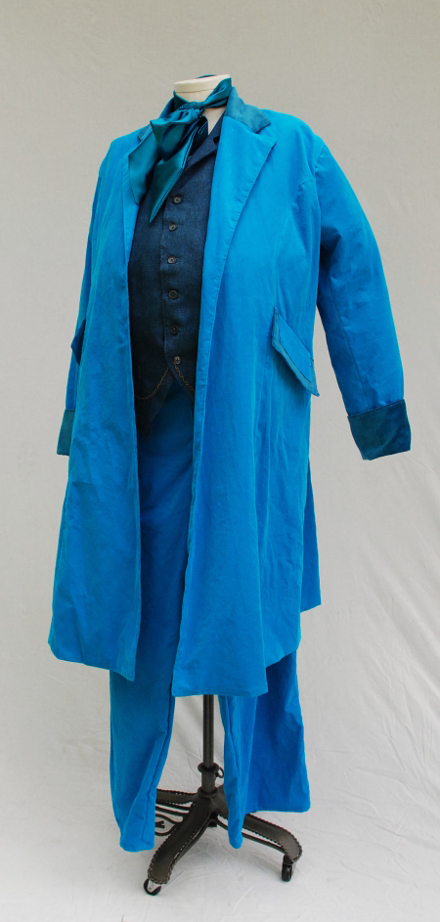 The Sixth Dr's Blue Costume
Custom ordered one of a kind cloak based on the one worn by the Sixth Dr. Who and our version of the Sixth Doctor's blue costume.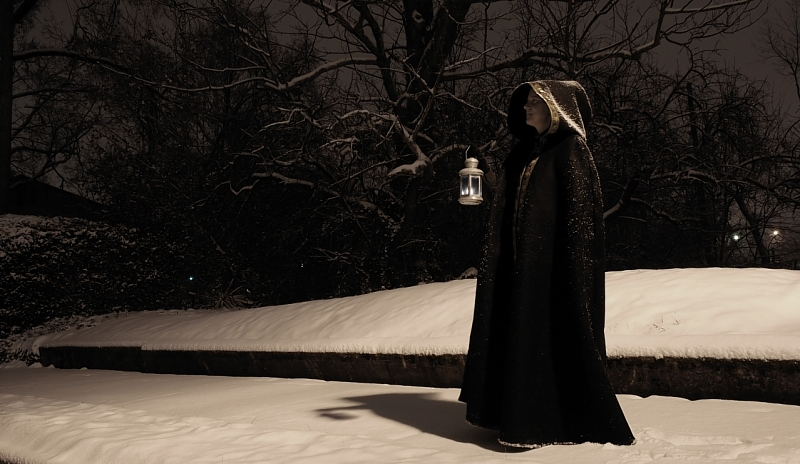 Victorian Roses Super Heavyweight Black Melton Wool Cloak
Superheavyweight black wool melton cloak with Victorian Roses trim. Unfortunately, this fabric is no longer available.