Historic Movie Quality Costume Portfolio
---
This page contains a small sampling of some of the many historic costumes that we have created in the past. These items are not currently available for immediate purchase, but may be available as a custom order. Please contact us if you are interested in purchasing a costume simiar to those shown on this page.
Cavalier Fencing Outfit
Fabrice Linque of Le Companie du Grand Veneur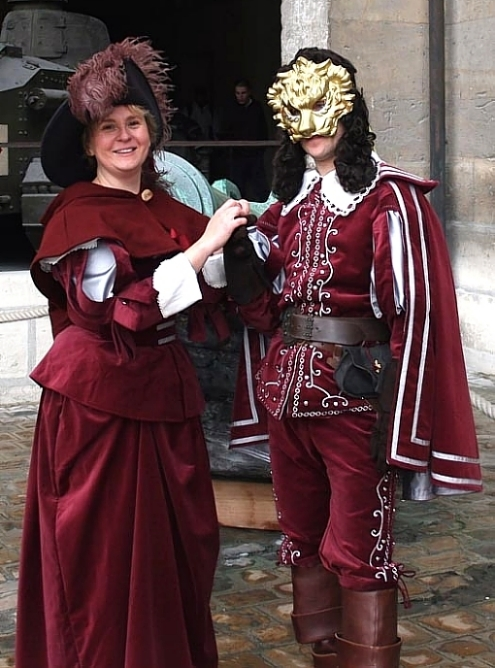 Fabrice and Frederique Linque at Les Invalides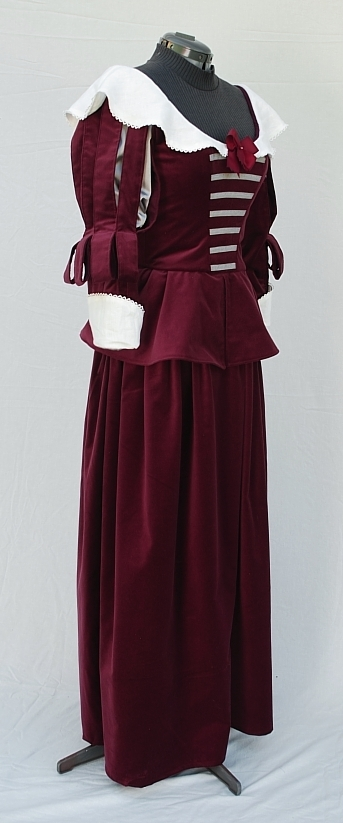 Womens Cavalier Era Outfit
These matching Cavalier/Musketeer style outfits were created as a custom order based on film reference images provided by the customer.
The men's button fly breeches and doublet ensemble above was made from a wine colored medium weight 100% cotton velvet fully lined with cloud gray organic cotton twill. The embroidered silver motif was custom digitized and embroidered, and silver domed studs were interspersed into the design for a three-dimensional element similar to the original. The paned doublet sleeves feature a silver satin inner layer, and the matching wine velvet cape is also lined with silver satin and trimmed with two rows of silver braid. The original outfit in the image provided had a detachable lace trimmed linen collar - this element will likely be added upon receipt by the customer (shown below).
The women's bodice and skirt ensemble is made from the same wine cotton velvet, with silver satin inner sleeves and silver braid accents. The back lacing bodice is fully lined, boned and interlined with canvas for additional support. The attached linen collar and cuffs have scalloped lace edging, and a removable matching wine colored grosgrain ribbon flower/bow accent with silver seed beads at the bodice front.
Our thanks to Frédérique and Fabrice Linque of La Garde des Lys for the great photos!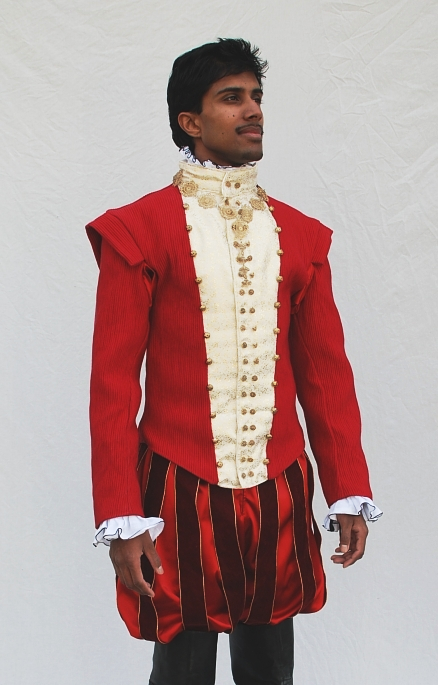 Red Montponssier Costume Replica
This custom ordered ensemble was based on a costume seen in
La princesse de Montpensier
. The red textured doublet fabric was originally brown heavy weight cotton that was stripped of color and re-dyed red. The front of the doublet and collar are made from an ivory and gold brocade closed and embellished with many, many buttons. The pumpkin breeches were created from hand dyed velvet ribbon edged with couched gold cord. The doublet sleeves are a different style from the original, without the bias cut and pieced strips and gold cording to reduce the cost of the costume.
Modeled by K. Rasiah.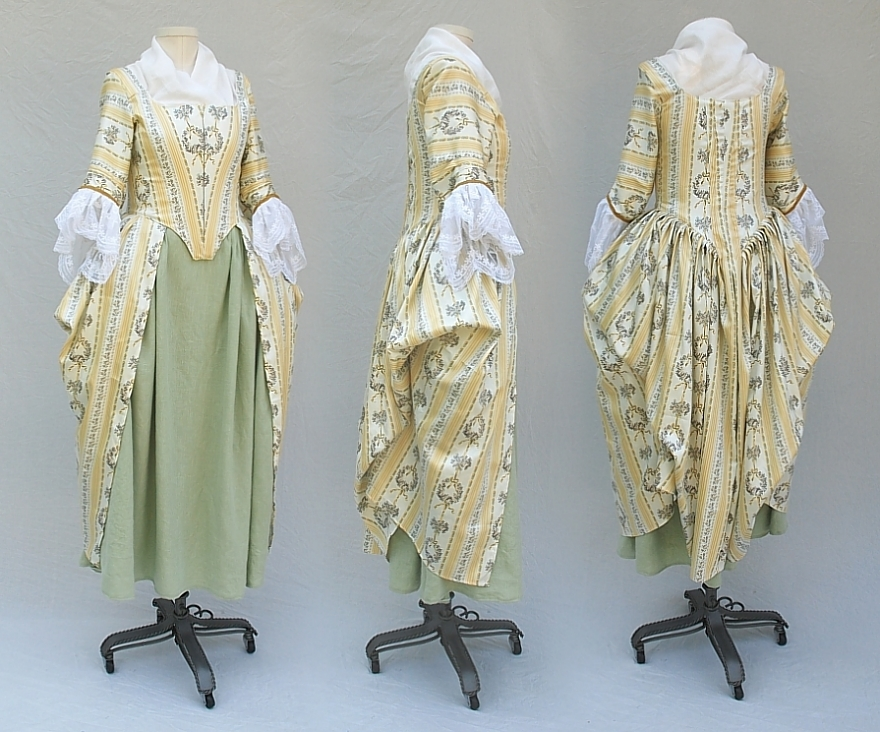 Revolutionary War Era English or Polonaise Gown Replica
This custom made ensemble features an English or Polonaise gown based on a historic 1770 - 1780 gown reference. We used a yellow and white striped cotton print for the gown and a celery green linen for the petticoat. The outfit above is shown with pocket hoops.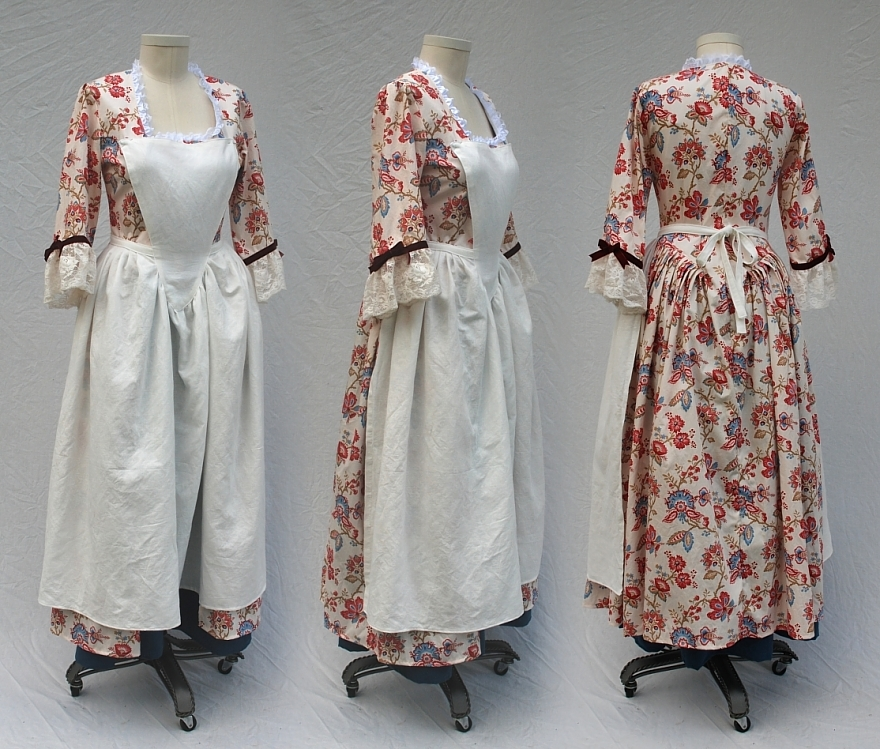 Floral Print Revolutionary War Gown with Linen Pinner Apron
This custom ordered Revolutionary War Era adult woman's costume consisted of a blue petticoat, cotton gown with lightly boned bodice, and linen pinner apron (the bib is pinned to the front of the bodice as was done in the time period).
Early 1700's Coat
Photo by Nina Rizzo. Copyright 2007.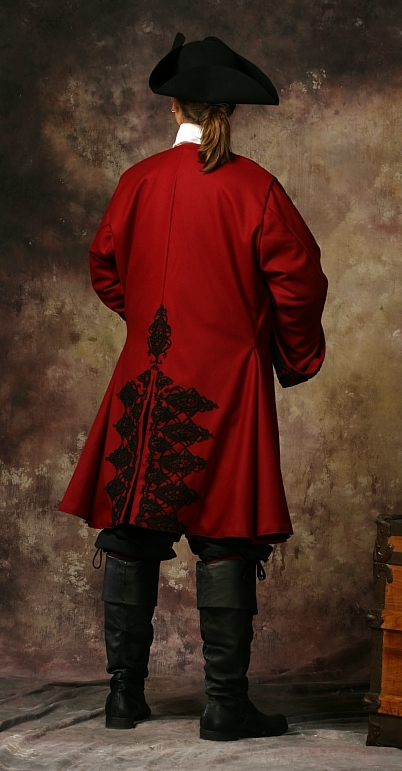 Early 1700's Coat
Photo by Nina Rizzo. Copyright 2007.
This early 1700's style coat was patterned after a diagram in the Cut of Men's Clothes based on a garment in the Victoria and Albert Museum. The coat shown above was made from cardinal red medium weight wool flannel stiffened at the front and cuffs with horsehair interfacing. The inside of the coat was lined with heavyweight softened black linen and has black wool flannel facings. There was just under five yards of black Venise lace appliqued to the front, the back vent, and the cuffs. The points of the lace along the front opening had a decorative black glass button with rhinestone center and gold highlights on each making a total of 24 buttons.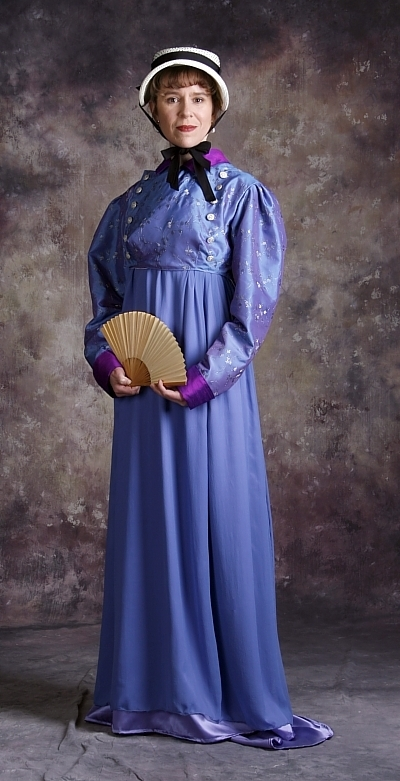 Custom Jane Austen style gown and Spencer Jacket
Photo by Nina Rizzo. Copyright 2007.
This custom Regency style ensemble was based on historic clothing pieces from the Jane Austen era, specifically 1809.
The silk gown features an empire waisted periwinkle 100% silk crepe bodice with matching ombre dyed periwinkle and lavender silk ribbons. The skirt was made from lavender 100% silk satin with a translucent periwinkle 100% silk organza overlay. The bodice is not visible in these photos.
The Spencer jacket featured a shot fuschia and periwinkle taffeta embroidered overall with silver leaves and vines, accented with fuschia 100% silk dupioni collar, cuffs, and inserts at the back of the jacket. The silver filigree buttons at the front and decorating the back of the jacket have a rose and leaf design. This jacket was fully lined with a pale pink linen/cotton blend fabric.
A custom ordered outfit made to measure in this style from comparable materials would cost about $850.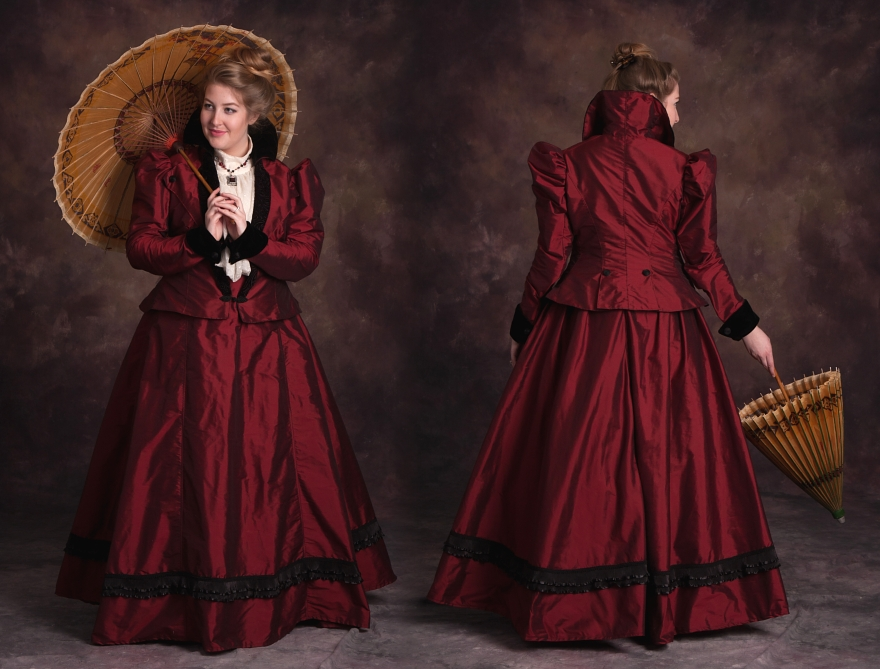 Garnet Taffeta Edwardian Ensemble
Photo by Nina Rizzo. Copyright 2015.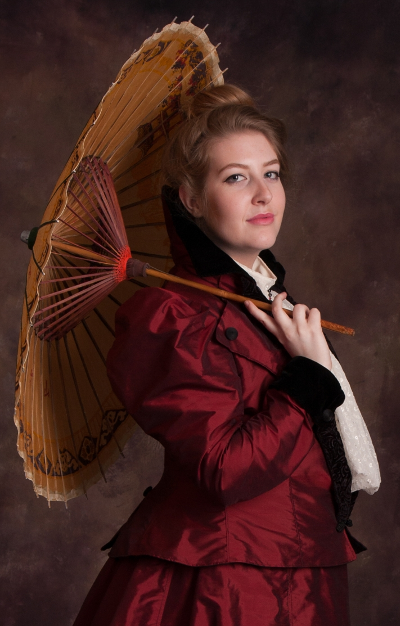 Garnet Taffeta Edwardian Ensemble
Photo by Nina Rizzo. Copyright 2015.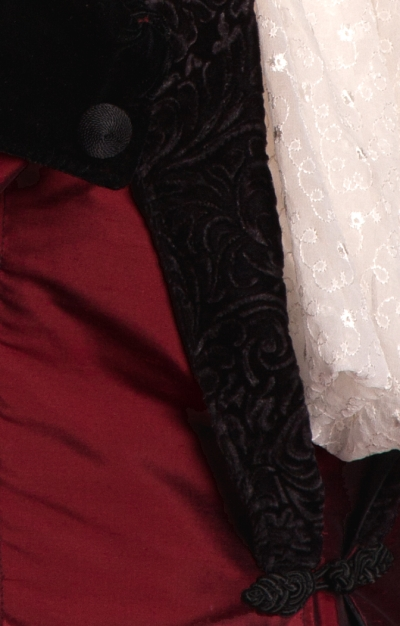 Garnet Taffeta Edwardian Ensemble Fabric Details
Photo by Nina Rizzo. Copyright 2015.
This Edwardian style outfit is made from shot garnet colored synthetic taffeta that 'whispers' and shimmers as it moves from ruby to nearly black. Black ruffled trim, embossed and regular plush velvet, and passmenterie buttons provide accent.
The taffeta jacket is fully lined, but is not boned. The unlined matching taffeta skirt has a tie at the waist for a bit of flexibility in fit at the waistline. The skirt is shown here over a crinoline and petticoat. An embroidered silk chiffon dickey lined with cream cotton muslin completes the look.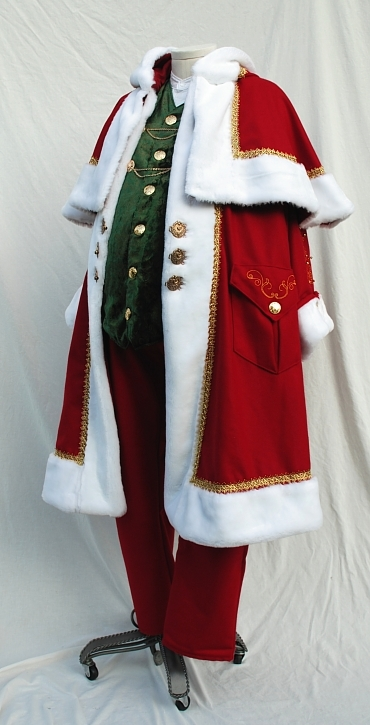 Victorian Santa Suit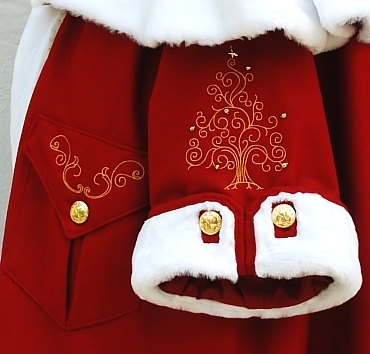 Victorian Santa Suit Embroidery Detail
As with many of our other custom ordered items, this Victorian Santa costume was designed in collaboration with the customer via detailed email correspondence, and was inspired by various images of Victorian Santas painted by different artists to which the customer kindly provided pictures and links.
The gold-embroidered coat was made from red 100% wool flannel with 100% cotton broadcloth lining in the hood, mantle, body and sleeves. Every edge of the coat, hood and mantle aside from the sleeve cuffs has plush white faux seal fur trim which was hand stitched into place then embellished with machine stitched gold braid. The sleeves have turned back faux fur cuffs with red wool flannel bound edges and buttonholes as depicted in a reference image. There are three solid bronze clasps at the front of the jacket featuring stags, oak leaves and acorns - we had used this clasp on a previous Santa inspired ensemble as a reasonable reindeer stand-in. The pocket flaps and sleeves were embellished with custom digitized gold embroidery based on a design we found and subsequently decorated with small brass bells and a star at the top for a more 3 dimensional effect - these embellishment ideas were approved by the customer. This ensemble also featured matching wool button-fly pants and a waistcoat made from gold-painted green velvet. Not pictured was a matching Santa hat.
This outfit is unique as some of the fabrics are no longer available.